7. Conclusion
The overall performance of the Kingmax DDRII 667 modules was good at all speeds. Pitted against the more expensive OCZ PC5300 in our comparison, the results were very good at 533MHz and 667MHz. At the highest speed of 693 MHz which was confirmed using Memtest86+, performance was equally good although there are others out there that can go faster and better. The good thing is that our Kingmax modules reached the highest speed without any compromise in timings, so that we used the same timings as at 533MHz.
SiSoft Sandra 2005 reported the very good results of 6115MB/s and 6158MB/s in the RAM Bandwidth Integer and Floating Point benchmarks respectively, while in the Combined Index, the reported 11313MB/s was also good. In games, the increased memory speed in combination with the overclocked CPU will increase the frame rate, as happened in our HL2 test where we saw a jump of approximately 30fps when going from 533MHz to 693MHz.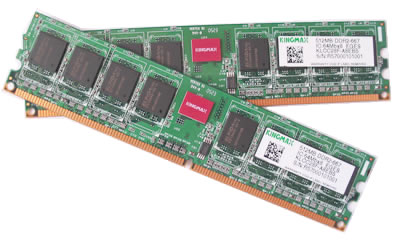 In the e-market, it is not so easy to locate the specific memory modules since they are quite new, but we are sure this will change shortly. The price, according to Kingmax, is around US$85 for each 512MB module but soon, there will be a dual channel edition package. The cost is very reasonable and it is a safe purchase for most PC systems.