Intel P35 Motherboard Roundup Vol2
4. Asus Blitz Extreme Retail Package
As we explained in our introduction, both the Blitz Formula and Extreme are identical motherboards with different memory support. The Asus Blitz Extreme is based on the Intel P35 chipset, which supports Intel® Core™2 Extreme / Core™2 Quad / Core™2 Duo / Pentium® Extreme / Pentium® D / Pentium® 4 / Celeron® D Processors and the next generation 45nm Multi-Core CPU (LGA775). It features 1333/1066/800 MHz FSB, dual-channel un-buffered DDR3-1333/1066/800 MHz, non-ECC and un-buffered memory x 4 DIMMs with a maximum of 8GB. The Blitz Extreme also supports AMD's CrossFire across 2 AMD graphics cards, with both cards operating in 8x mode.
- Retail Package
Asus Blitz Formula SE costs around €240~250, as found at several online stores.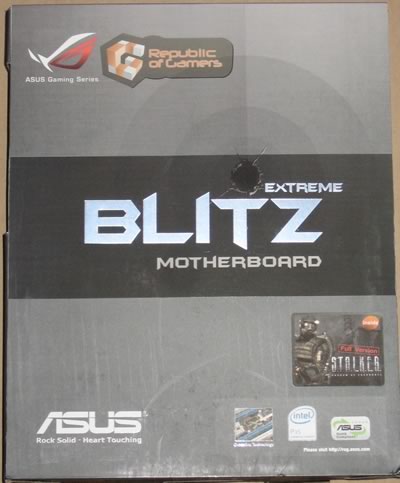 In both retail packages, the S.T.A.L.K.E.R retail game is included as is a large printed manual.
The package contents are identical to the Blitz Formula SE. We must note that both motherboards are carefully packaged in a plastic shell that protects them from transportation hazards.
The motherboard has four banks for DDR3 memory modules:
The CrossLinx technology boosts graphics performance when you use two AMD based cards with CrossFire:
At night, both the Blitz Extreme and Formula glow...