Intel P35 Motherboard Roundup Vol2
3. Asus Blitz Formula SE BIOS
The BIOS is more or less what we have seen with the P5K series, with a few additional improvements. Everything is in place and works as expected. Under the Extreme Tweaker, there are tons of different settings from FSB, DRAM and of course Voltages. There are several pre-defined overclocking settings, each with different FSB and memory divider/speed.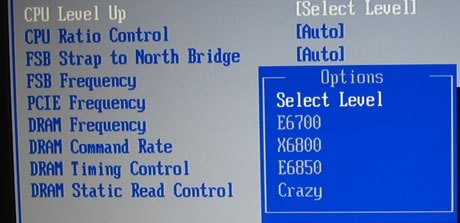 With our installed Intel E6600, the Asus Blitz Formula SE produced the following FSB/DRAM combinations:
Level 6700: 296 FSB & DDR2-740
Level 6800: 326 FSB & DDR2-782
Level 6850: 333 FSB & DDR2-800
Level Crazy: 389 FSB & DDR2-934
Of course, advanced users will prefer manual settings with Extreme Tweaker. Just look at how many different voltage values a user can experiment with to find the best possible setting.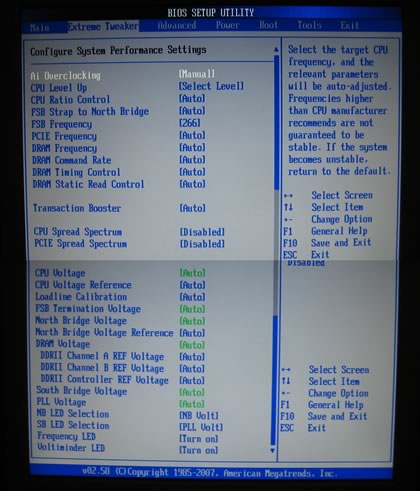 Interesting are the range values for the Voltages:
| | |
| --- | --- |
| CPU Voltage | 1.10000~1.900000 |
| FSB Termination Voltage | 1.20~1.80V |
| North Bridge Voltage | 1.20~1.80V |
| DRAM Voltage | 1.80~3.40V |
| SouthBridge Voltage | 1.050~1.225V |
| PLL Voltage | 1.50~2.00V |
The DRAM voltage can go up to 3.40V, so be careful not to fry your memory modules! A major change is found under the Power tab, where there are now many different readings from motherboard sensors, either for CPU, MB and NB/SB. In case of overheating, you can protect the motherboard by leaving the Auto settings. Many voltage readings are also offered under this tab:
We would like to congratulate Asus for their BIOS flasher that works like a charm with USB sticks, no need for floppy diskettes anymore:
- Installation
Using Everest Ultimate Edition 2007 we can get more information about the board:
Our tests were performed with Crucial's PC2-8000 DDR2 memory
Running at 535MHz with 5-5-5-15-2T memory timings.
For all tests, we used the latest available BIOS, v1101.
Let's now see how our CPU was identified by CPU-Z. Note that the CPU reports 2405.5MHz, which should give the Blitz Formula SE a small advantage in the tests.