2. Package, installation
The Intel Core i7-920 costs around €285 as found at several online stores around Europe. The blue retail package is easily recognizable from the new Core i7 logo and its much bigger volume compared to the C2D series: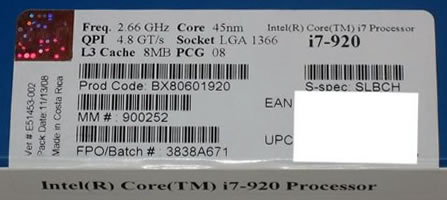 The included cpu cooler looks bigger than what we have seen with 45nm Quad core series.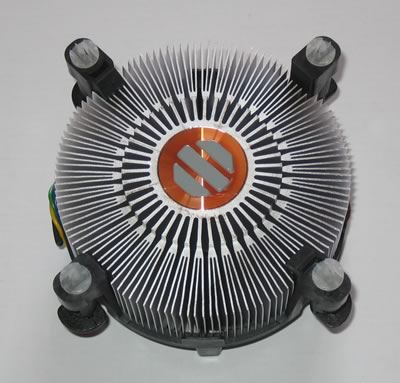 - Installation
Installing the PCU in the new LGA 1366 socket is not any different than what you may have already experienced with the previous LGA 775 processors. The socket's design does not allow you to install the CPU in a wrong way: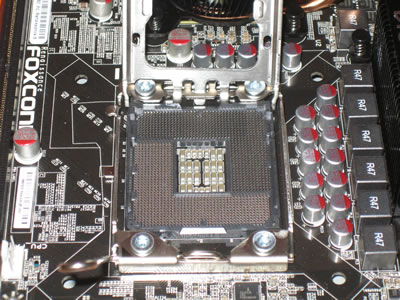 Push the CPU bracket down until you here the click locking sound.
Your new Core i7 processor should be ready to go in just three minutes.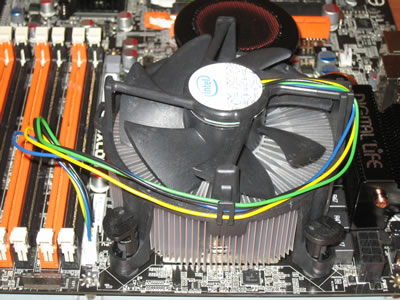 After connecting all necessary power cables, you can power up your system. Using the latest CPU-Z we can see more details about the installed processor: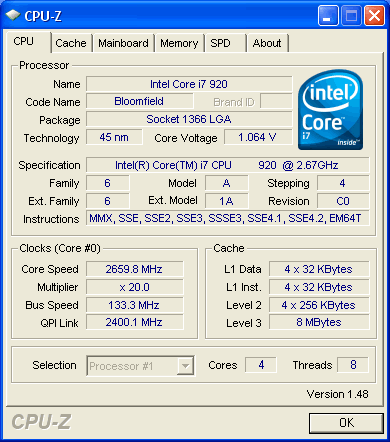 The default core voltage of the Core i7 series is 1.10V, with a maximum of 1.45V. For our tests we used the Foxconn Renaissance X58 motherboard with the bios Ver. P07 installed.
The memory we used is the Crucial DDR3-1066 rated at CL7-7-7-20-1T with 1.55V. According to Intel, the memory voltage should not exceed the 1.65V in order to avoid damaging the CPU.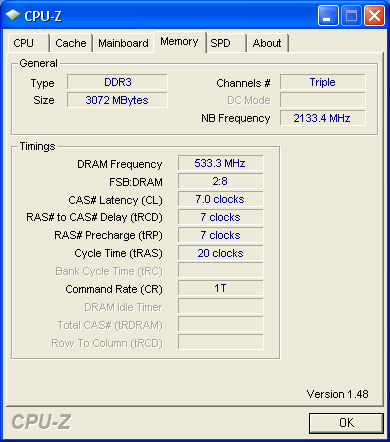 Below is the testbed configuration we used in this test:
CPU Cooler: Intel Core i7
Motherboard: Foxconn Resaissance P07 bios
Memory: 3x1GB Crucial DDR3-1066 (533 @ 7-7-7-20-1T, 1.50V)
VGA: MSI 7600GT Silent with latest Nvidia drivers installed
HDD: WD 80GB SATA (primary)
HDD: WD 80GB SATA (secondary)
Operating system: Windows XP SP2 with all latest updates installed
Operating system: Windows VISTA 32bit SP1 with all latest updates installed
Benchmark software
- Office/Benchmarks (WinXP)
Sisoft Sandra 2008 SP2
Everest Lavasys Ultimated Edition 2007 v4.50
SuperPI Mod v1.5XS
wPrime v1.55 (stable)
Cinebench vR10
x264 Benchmark
x264 HD Benchmark
SysMark 2007 Preview
TMPGEnc 4.0 Xpress
- Gaming/Benchmarks (VISTA 32bit)
PC Mark Vantage v1.00 Nov Edition
3D Mark06 v1.2.0
Crysis Retail v1.20