Gaming Performance Analysis - 4GB vs. 2GB
3. Windows Vista 32bit - Crysis WarHead v1.00
The Crysis WarHead is based on the latest Crysis engine and all the visual settings are pre-defined in four rendering modes in both DX9 and DX10. These include the "Performance", "Mainstream", "Gamer" and "Enthusiast".
For each resolution, we tested all four different detail settings at the various resolutions and reported the minimum and average frame rates (FPS):
DirectX 9
We can clearly see that the 2x2GB provided increased the "minimum" FPS while playing the game in all resolutions and rendering modes.
In the following graphs you can see the average frames per second we got in the same tests as previously.
Here the differences are less impressive. We can say that both memory setups performed equally:
DirectX 10
Going further to the more demanding DirectX10 rendering mode, we can see that again additional 2GB of our system contributed to improved minimum FPS.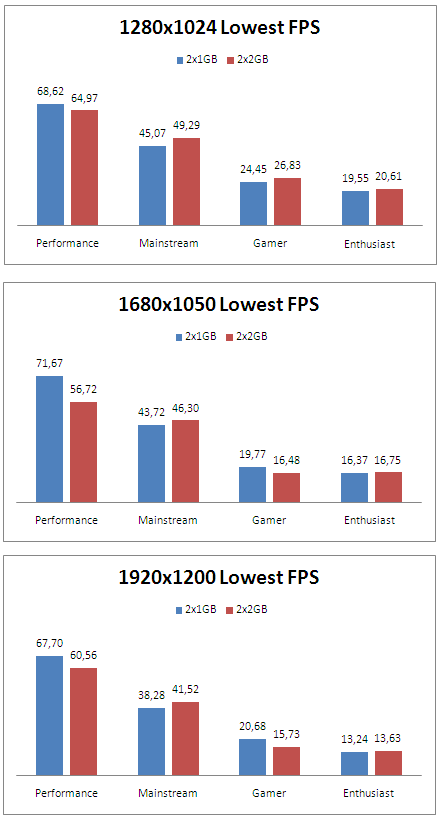 On the other hand, the increased memory did not affect the average FPS at 1280x1024.
At higher resolutions, the 4GB seems to offer a boost in the "Gamer" quality settings only.