1. Features
The Corsair Flash Voyager family of USB drives is rugged, stylish and compact, making them ideal for transporting MP3s, digital images, presentations and more. Flash Voyager drives are fully Plug and Play with most operating systems and are backward compatible with USB 1.1. Their basic feature is their rubber casing, which offers an easy grip and make the drives water resistant.
The Corsair Flash Voyager family now comprises of two lines of products. The Flash Voyager GT is designed from the ground up for speed, optimizing transfer rates of both reads and writes. Flash Voyager now moves down into the price/performance segment and is available in capacities ranging up to 128GB.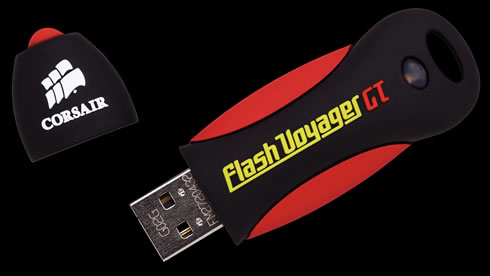 The Flash Voyager GT product line are enclosed in the Corsair proprietary all-rubber Flash Voyager housing boasting water-resistant properties. The Flash Voyager has been shown laundered, baked, frozen, boiled, dropped, and even run over by a SUV in many third party reviews. After all the punishment it receives, the drive continues to work.
Corsair Part Number / Density:
CMFUSBAC-128GBGT

128GB

CMFUSB-64GBGT

64GB

CMFUSB-32GBGT

32GB

CMFUSB2.0-16GBGT

16GB
Today we will run some benchmarks with the 32GB version of the Voyager drives, the
Corsair Flash Voyager GT 32GB
.
- Features
Plug & Play functionality in Windows Vista, XP, 2000, ME, Linux 2.4 and later, Mac OS 9, X and later
Lanyard and USB extension cable included
Ten year warranty