1. Introduction

Today's needs for efficient and reliable power supplies are greater than ever. We all want to have a stable PSU that will also meet the demands of our current and future PC configuration. With already so many products on the market, Corsair's proposal at 620W, comes with many interesting features and good performance.
- Corsair HX620W Power Supply
The Corsair HX620W/HX520W power supply is the most versatile and robust power supply available in the market today. Utilizing superior triple +12V power rails and a whisper quiet double ball-bearing 120mm fan, the HX620W/HX520W is ready for tomorrow's most power hungry components. The HX620W/HX520W conforms to the latest ATX12V 2.2/EPS12V 2.91 and RoHS standards, and delivers unparalleled continuous power to all of your critical system components reliably and safely. Corsair's easily detachable and flexible modular cables allow you to use only the cables you need and enhance the air flow inside your system. The HX620W/HX520W is backed with a 5 year warranty and Corsair's legendary customer service.
According to Corsair: "..From the manufacturer of the "World's Most Awarded Memory" comes the Corsair HX Series Power Supply. With that same legendary focus on the performance and reliability, Corsair has engineered the HX Series to support even the most demanding of systems. The Corsair HX Series incorporates the most advanced technology to deliver reliable, continuous, and efficient power to all critical system components. The HX Series is the ideal power supply for high performance and gaming PCs, Audio/Video workstations, and file servers...."
The performance of this PSU, according to Corsair, is very good. We will find out just how good in this review: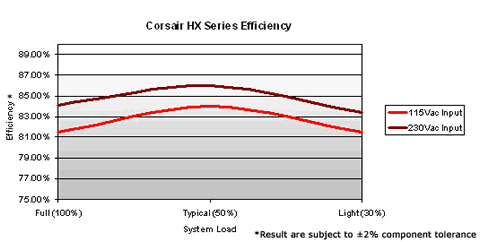 - Features
Supports the latest ATX12V v2.2 and EPS12V 2.91 standards and is backwards compatible with ATX12V 2.01 systems.
Guaranteed compatibility with dual-GPU configurations.
Double forward switching circuitry design offers high efficiency, up to 80% under wide load range.
Active Power Factor Correction with PF value=0.99 provides clean and reliable power to your system.
Universal AC input 90~264V automatically scans and detects the correct voltage. No more hassle of flipping that tiny red switch!
Ultra quiet 120mm double ball-bearing fan delivers excellent airflow at an exceptionally low noise level by varying the RPM in response to temperature.
Guaranteed to deliver rated specifications at 50ºC.
Triple 12V Rails provide independent reliable power to the CPU, video card and other components with a combined rating of 50A (40A on 520W) maximum! Advanced circuitry design that automatically enables power sharing between the triple +12V rails in an event of overload on any single +12V rail.
Powerful +5Vsb rail with 3A rating.
Over Current/Voltage/Power Protection, Under Voltage Protection, and Short Circuit Protection provide maximum safety for your critical system components.
105ºC rated industrial grade capacitors provide uncompromised performance and reliability, delivering 4 times the life-span of conventional 85ºC rated capacitors.
Enhanced modular flexible cables enable easier cable routing and increased airflow in the system.
Gold Plated connectors provide oxide free ultra low-resistance contact between the power supply and your critical components.
8 Serial ATA connectors (4 on 520W).
Dimension: 5.9"(W) x 3.4"(H) X 5.9"(L)
150mm(W) x 86mm(H) x 150mm(L)
MTBF: 100,000 Hours
Safety Approvals: UL, CUL, CE, CB, FCC Class B, TÜV, CCC, C-tick.