Crucial BallistiX Tracer PC3-10600
1. Features
Crucial, a sub-division of Micron, recently released a new memory kit in its BallistiX Tracer series. The Crucial BallistiX Tracer PC3-10600 (1333MHz) is specifically built for performance enthusiasts and case modders who want to push the performance envelope while adding flash appeal to their boxes.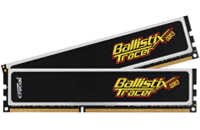 The Ballistix line of high-performance memory modules features advanced speed grades, low latencies, and integrated aluminum heat spreaders. Ballistix Tracer memory features a black PCB, black integrated heat spreaders, and one or two rows of eight "chasing" red and green LEDs atop the module, circulating in a random pattern based on memory utilization. A custom-designed circuit relays bus activity to the LEDs, allowing them to accurately reflect usage of each memory module. In addition, eight blue ground effects LEDs emit a constant glow near the pins.
What is a Ballistix Tracer DDR3 240-pin DIMM?
Ballistix Tracer 240-pin DIMMs are found in DDR3 memory. DDR3 boasts an improved architecture allowing very fast data transmission.
A Ballistix Tracer dual inline memory module (DIMM) consists of a number of memory components attached to a black printed circuit board. Gold pins, found on the bottom of the DIMM, provide a connection between the module and a socket on a larger printed circuit board. The pins on the front and back of a DIMM are not connected to each other.
To use DDR3, your system motherboard must have 240-pin DIMM slots and a chipset that supports DDR3 — which is a different technology than that of than its predecessors, DDR2 and DDR. DDR3 incorporates different sockets; they are not interchangeable or backward-compatible. (Information about which memory technology your system uses is included in the Crucial Memory Advisor tool.)
The number of black components on a Ballistix Tracer 240-pin DIMM can vary, but it always has 120 pins on the front and 120 pins on the back, for a total of 240. Ballistix Tracer 240-pin DIMMs are approximately 5.25 inches long and 1.18 inches high, though the heights can vary. These 240-pin DDR3 DIMMs have only one notch within the row of pins, and each technology has the notch in a slightly different location on the module.
- Main features
DDR3 PC3-10600
6-6-6-20
Unbuffered
NON-ECC
DDR3-10600
1.80V
128Meg x 64