1. Introduction
Corsair is a well established manufacturer of quality computer power supplies, targeting demanding users. The latest proposal comes in the TX series, aiming at advanced users providing them with high efficiency and great stability. Lets meet the Corsair TX650W and check its features.
- Corsair TX650W Power Supply
The Corsair TX650W power supply is engineered using advanced technology and components typically found with high performance power supplies.
With design features such as a dedicated, single +12V rail offer the maximum compatibility with the latest system components. Energy efficient circuitry capable of delivering greater than 80% efficiency ratings across 20%, 50%, and 100% load conditions make the TX family of PSU's ideal for the value/quality conscious enthusiast. With a 120mm diameter temperature-controlled fan that is ultra quiet, yet still more than sufficient to cool the internals of the system, reliability and stability are no longer worries for the gamer, overclocker or enthusiast and high-end system builder.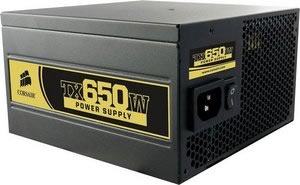 The performance according to Corsair is very good as we will find out later in our review:
- Features
Supports ATX12V v2.2 standard and older ATX12V 2.01 spec

Ultra-quiet 120mm (140mm on TX750W) double ball-bearing fan delivers excellent airflow

80%+ energy efficiency at 20%, 50% and 100% load condition for less heat generation and lower energy bill

99% Active Power Factor Correction provides clean and reliable power to your system

Universal AC input 90~264V automatically scans and detects the correct voltage

Dedicated single +12V rail offers maximum compatibility with latest components

Over Current/Voltage/Power Protection, Under Voltage Protection, and Short Circuit Protection provide maximum safety to your critical system components.

High quality Japanese capacitors provide uncompromised performance and reliability.

Extra long cables support full tower size chassis:

5.9"(W) x 3.4"(H) X 5.5"(L)

MTBF: 100,000 Hours

NVIDIA SLI-ready certified.
- Specifications
Model

TX650W

AC Input Rating

90 - 264VAC

Input Current

5 - 9A

Frequency

47Hz - 63Hz

DC Output

Max Load

Max Output

+3.3V

24A

170W

+5V

30A

+12V

52A

624W

-12V

0.8A

9.6W

+5VSB

3A

15W

Total Power

650W