Crucial P5 Plus 1TB NVME SSD
3. Performance - Page 2
As we saw, the Crucial P5 Plus is a good performer, however how it stacks with competitor drives, like the well-known Samsung 980/980Pro 1TB models?
Let's start with the AJA Test System software, there the Samsung 980Pro 1TB series dominate the reading test,
While at the writing area, the Crucial P5 Plus 1TB gets the first place.
The ATTO Disk Benchmark v4.01 gave us more info about the performance of the drive using different transfer blocks from 512bytes up to 64MB. Here the Crucial P5 Plus 1TB is very close with the Samsung 980 Pro series.
, while at the writing area, the Crucial P5 Plus 1TB gave slight higher writing speeds.
Passing to IOMeter results, the Samsung 980 1TB gave higher (!) scores than the other two drives, even such small differences we could say at the margin of statistical error. In any case numbers seems to favor the non Pro version.

The PCMark10 Benchmark Suite, includes several Storage tests, which run for all tested drives. The Crucial P5 Plus got the first place at all tests.

Apart from the benchmarks, we also performed various real-life transfer tests, like copying a 61GB sized folder with various folders and small files and measure the transfer writing speed of all drives.
The Samsung 980 Pro 1TB managed to get the highest performance at this test with up to 1.33GB/Sec writing speed.
Then we had a 44GB single zip file, which copied to each drive, the Crucial P5 Plus 1TB has very good writing speed with up to 3.63GB/sec performance.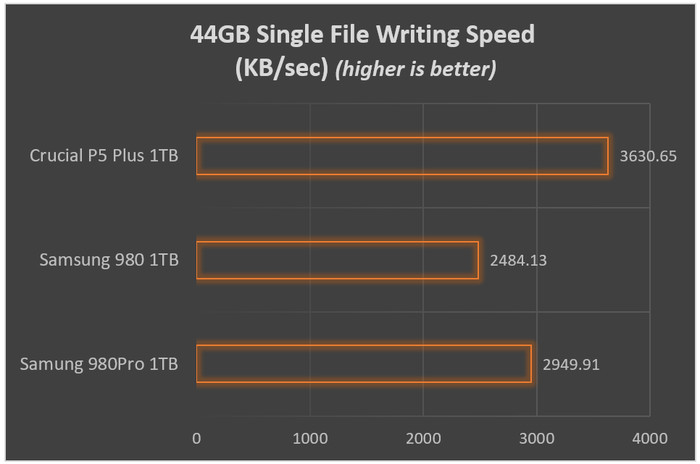 How about a much higher single sized file? Like a 200gb size? Will the tested drives handle this as supposed to? Well not exactly, the Samsung 980 1TB since doesn't include any DRAM on board after the 80GB mark drops speeds significantly and therefore gets bottom place.
The Crucial P5 Plus 1TB does handle this test well until the 105GB mark, afterwards it drops speed from 3.63GB/sec down to 1.2GB/sec, where it finishes the test resulting an average to 1.82GB/sec writing speed.

The Samsung 980 Pro 1TB was the most "stable" resulting an average of 2.12GB/sec writing speed.