CPU Coolers - Noctua NH-C14 Vs Thermaltake Frio Ock
6. Summary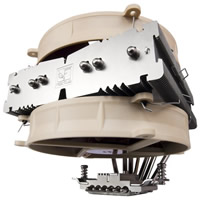 Noctua NH-C14 is a high-quality top-cooler with high cooling efficiency for the cooling solutions of its type. The cooler appeals due to two ultra-quiet 140 mm fans that can be installed in a variety of combinations in order to fit into your PC case. This kind of flexibility mean that you may install this quiet cooler even into a compact system - although single-fan configurations will result to less cooling efficiency. At full speeds and with 2 fans installed, the Noctua NH-C14 will offer you the performance of company's much acclaimed NH-C12P series. However, the price of $90 is high and we are not sure that it would help Noctua compete successfully in the today's crowded CPU cooler market. Of course, the generous period of 6 years supported by the cooler's warranty is a plus for the company.
If your computer can accommodate the large size of this heatsink, the Noctua NH-C14 worths your attention. Build quality, ease of installation and quiet operation is provided in this well designed thermal solution.
Thermaltake's Frio OCK is also a loud cooler by average standards with the fans running at full speed, but the cooler itself produced very high load level efficiency. In addition, the Frio OCK is very easy to install, and maintain with the removable shroud.
The cooler's price could be lower since there are other solutions that will cost you less than $80 that can do the job of cooling 200 watts of heat from a CPU and most importantly, with less noise.