2. Test Setup
In order to test the memory modules, we used the following setup:
CPU: Intel XE6600 @ 2.4GHz
Motherboard: eVGA 680i LT
PSU: OCZ GameXStream GXS600 SLI-Ready
VGA: MSI 7600GT Silent (stock memory/core timings)
HDD: WD 800JB
OS: Windows XP SP2 with all the latest updates installed
While for benchmarking we used:
Memtest86+ v1.70
Sisoft Sandra 2007 SP1
RightMark Memory Analyzer v3.70
ScienceMark 2.0 Memory Benchmark
Pov-Ray v3.70 Beta15
SuperPI XS Mod v1.50

The eVGA 680i LT motherboard offers many possibilities for overclock both memory and CPU, either synced or not. For most of our tests, we set the memory and CPU un-synced and tried to find the best possible, lowest memory timings. Each benchmark had to pass a 30min burn-in test with Memtest86+ v1.70 (DOS), without any producing any errors at all. Furthermore, we tried the Pov-Ray benchmark and Orthos Stability test under Windows to ensure that our system was rock solid. All benchmarks were then run twice and all displayed results are the average of both results.
The SPD, as reported by Everest Ultimate Edition, is only set for 400MHz with 4-4-4-12-2T timings: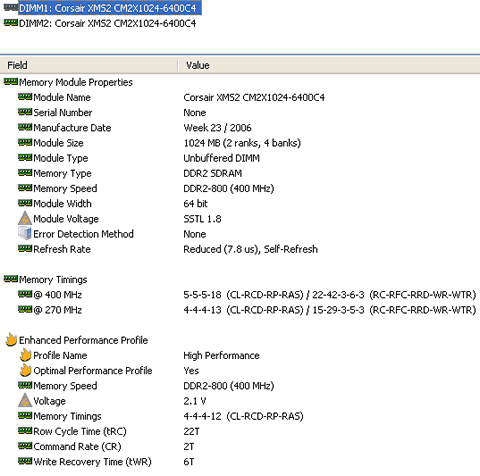 In case you are using an EPP Enabled motherboard, those timings will be automatically set by the motherboard.
Lastly, here is the table of FSB and voltages. The product not only performs according to the specs, but with even tighter timings than 4-4-4-12, with of course a higher voltage (2.20). The product is rated at 400MHz, but managed to produce an additional 163MHz, superb performance!
At DDR2 1126MHz, our CPU FSB and RAM were synced (1:1) and we overclocked the CPU up to 2.533GHz
Below are the memory timings as reported by CPU-Z: