be quiet! dark power 13 750W
3. Conclusion
The Dark Power 13 series were the first-ever power supply from be quiet! offer full ATX3.0 compliance in order to deliver great efficiency and power to users who have new RTX4000 series graphics cards and in general want a future-proof power supply.
The product build quality is really a step above other power supplies from being quiet! with high-end quality Japanese capacitors (Nippon Chemi-Con and Rubycon) and a big 135mm rotating fan that cools down the internal and produces very low noise levels. The tested 750watt variant will keep your system stable and without any series problems, due to its four +12V rails and the inclusion of the OC adapter that transforms the power supply to one +12V rail with total power output really gives advanced users and overclockers something to play with and have many options at the end. Stressing the system either with Blender test or 3D Mark Vantage gave back again the same great performance, depending on your system and future expandability you can buy higher capacities up to 1000watts for those RTX4090 series.
The retail package is more than complete with 12 included cables again with the highest possible build quality and the included 12VHPWR connector at the 750watt variant comes with a 450watt mark, which is very correct, since the 750watt power supply won't be able to keep with the AMD 7900XTX series or Nvidia RTX4090 graphic card. There are also four 'traditional' PCIe 6+2 connectors so don't worry. This is a truly versatile and perfect, future-proof choice for upcoming next-gen devices and current high-end systems alike.
All the features/build quality, retail package, and the 80 plus Titanium certification come with a retail price tag of $209.90 / €214.90 / £209.99 for the 750watt variant, which isn't very high since not many power supplies come with so many features and overall performance. The Dark Power 13 series, represent the best of being quiet! and really deserves your attention and adding to the next-to-buy list for your system. Did we mention that this product also comes with 10 years of warranty and the best possible end-user support from be quiet!?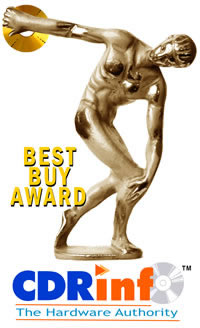 - The Good
Supports ATX 3.0 & PCIe 5.0 protocols
750Watt total output with four 12V rails or single rail mode
80 Plus Titanium rating
Excellent build quality with Japanese capacitors
Fully Modular cable design
The big 135mm cooling fan does the job well
Many connectors with long length + native 12VHPWR connector
10 years of warranty
Steady operation under heavy load
Competitive price for the 750watt platform (80 Plus Titanium+ATX3.0+10 years warranty)
- The Neutral
- The Bad