Battle of the CPU Coolers - March 2008
6. Noctua NH-U12P
| | |
| --- | --- |
| Manufacturer | Noctua |
| Model | |
| Price | |
| Category | Entry Level |
The NH-U12P continues the legacy of Noctua's classic NH-U coolers, which won over 150 awards and recommendations from international websites and magazines. While retaining the successful design and its SecuFirm mounting system, the newest revision has been reworked for enhanced main board compatibility and now comes with Noctua's NT-H1 pro-grade thermal compound.
In short, the major change here is the adoption of NF-P12 fan that proved to be better than the NF-S12 rotating fan. There is also a change at the base heatsink, which is now nickel-plated instead of fully coppered base. Weight is upwards of 770 grams.
- Features
4 Dual-Heat pipes for optimal heat absorption
The 4 u-shaped Dual-Heat-Pipes have a huge contact area with the copper base to efficiently absorb the CPU's heat. They form 8 risers to spread the heat throughout the fins.

38 aluminum cooling fins for optimal heat dissipation
Thanks to a surface area of more than 5000cm², the cooling fins dissipate the heat extremely fast. Both the choice of aluminum and the fins' shape and spacing allow for outstanding cooling performance with the supplied ultra silent NF-S12-1200 fan.

Soldered joints for optimal heat-transfer
Unlike many other coolers, whose heat-pipes are stuck to the base and the fins, the Noctua NH-U12F possesses high-grade soldered joints to ensure optimal heat transfer.

Noctua NF-S12-1200 fan with Ultra-Low-Noise adaptor
Thanks to the sound-optimized blade geometry of the Noctua Straight-Blade-Design and the self-stabilizing oil-pressure bearing (SSO bearing), the NF-S12-1200 achieves a flow rate of 81m³/h at a noise rating of only 17dB(A). Using the supplied Ultra-Low-Noise adaptor, the noise level can be lowered to only 8dB(A)!
Screwless fan-mount including anti-vibration strips
Attaching the fan with the steel clips is a child's play and doesn't even require a screwdriver. The supplied anti-vibration strips minimize vibrations transmitted to the cooler and hence allows for extra quietness.
Easy installation on socket LGA 775, K8 (754, 939, 940) & AM2
The NH-U12F fits Intel's socket LGA 775 as well as AMD's K8 (754, 939, 940) and AM2. Thanks to the detailed step-by-step installation guide, installation only takes a few minutes!
SecuFirm™ mounting system
The SecuFirm™ mounting system guarantees optimal contact pressure and maximum security thanks to the use of a backplate and spring-loaded screws. As a result, the SecuFirm™ mounting system makes it possible to safely transport the assembled system without any risk even though the cooler exceeds the 450g weight specification established by Intel and AMD. Perfect for LAN gamers!
Can be rotated by 90° for improved compatibility and optimal positioning within the case
The NH-U12F can be installed rotated by 90° on all compatible sockets to allow for an optimal positioning of the cooler within the airflow inside the case and to evade compatibility issues.
Including manual, thermal paste and mounting hardware
In addition to the mounting hardware, the manual and the NF-S12-1200 fan, the package contains a syringe of high-grade thermal paste so that you can get started right away!
- Specifications
Socket compatibility

Intel Socket LGA 775, AMD K8 (754, 939, 940) & AM2

Height (without fan)

155 mm

Width (without fan)

126 mm

Depth (without fan)

70 mm

Height (with fan)

155 mm

Width (with fan)

126 mm

Depth (with fan)

95 mm

Weight (without fan)

640 g

Weight (with fan)

790 g

Material

Copper (base and heat-pipes), aluminum (cooling fins), soldered joints

Fan size

120x120x25mm / 120x120x38mm (2 fans mountable)

Fan
Bearing
Blade Geometry
Rotational Speed (+/- 10%)

1200 RPM

Rotational Speed with U.L.N.A. (+/- 10%)

800 RPM

Airflow

81 m³/h

Airflow with U.L.N.A.

59 m³/h

Acoustical Noise

17 dB(A)

Acoustical Noise with U.L.N.A.

8 dB(A)

Input Power

1,44 W

Input Current

0,12 A

Voltage Range

4-13 V

MTBF

> 150.000 h

Scope of Delivery

NH-U12F
NF-S12-1200
Complete mounting hardware
Ultra-Low-Noise Adaptor (U.L.N.A.)
Thermal Paste
Anti-Vibration-Strips

Warranty

6 years
- Retail package
The retail package of Noctua NH-U12P is slightly bigger than what we had saw with the NH-U12F so many new things should be included.
Getting the package out we can see that everything is well placed and organized.
Inside we found the usual Noctua connectors and accessories for AMD K8, AM2 and Intel's Socket 775 platform.
The Noctua NH-U12P is made our of a nickel-plate copper base with U-shaped copper heatpipers and aluminum fins. So after all there are several "improvements". The heatpipes and copper base in this model are all nickel plated now, and every metal joint is soldered. Soldering decrease thermal joint resistance between the fins and heatpipes, or heatpipes and base.
The included 120mm rotating fan comes from Noctua with NF-P12 model code: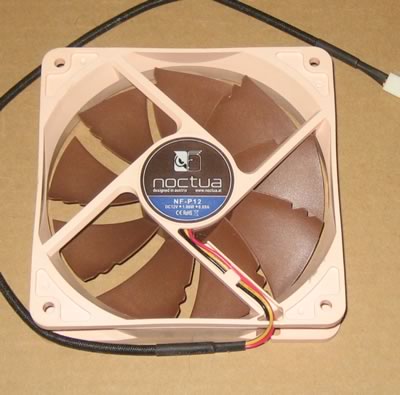 The base is made out of nickel-plated copper to which all four copper heatpipes are soldered. The base has a machined surface finish, done with a slight ridge texture.
- Installation
The installation process is more or less what we have covered in our Noctua NH-U12F article, visit this page for more information.
- Ratings (without benchmarks)
| | |
| --- | --- |
| Retail package | |
| Design | |
| Motherboard compatibility | |
| Installation time | |
| Copper Base quality | |