Battle of the CPU Coolers - March 2008
3. Evercool Buffalo
| | |
| --- | --- |
| Manufacturer | Evercool |
| Model | |
| Price | $20 |
| Category | Medium Level |
Evercool introduces a low budget cpu cooler with the codename "Buffalo". This cpu cooler uses Intel's standard mounting mechanism and promises very good performance with low noise.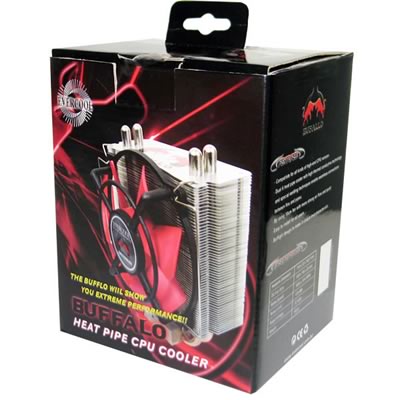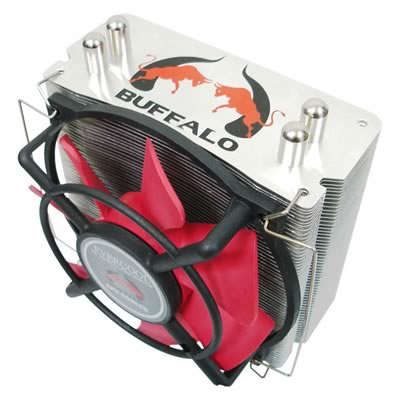 - Features
HPFI-10025: for INTEL
HPFA-10025: for AMD
Compatible for all kinds of high-end CPU version.
Dual Ø6 heat pipe cooler with high thermal conductive technology and special welding techniques enable seamless connections between fins and pipes.
By using 10cm fan with more strong air flow and quiet.
Easy to install for all users.
Bullfight design to make it unique and characteristic.
- Full Specifications
Overall Dimensions :

110 x 72 x 142.7 mm

DC Fan Size :

100 x 100 x 25 mm

Base Material :

Heat Pipe

Bearing Type :

Ever Lubricate Bearing
(Long Life bearing)

Speed :

1800 ±10% RPM

Noise Level :

<23 dBA

Rated Voltage :

12 V

Weight :

500 g
- Package
The package is spartan, since you will not find anything more inside the box except the Buffalo cooler of course. Looking at the front, we see a 92mm rotating fan with red color red blades mounted at aluminum fins. There are two U-shaped heatpipes that absorb heat from the copper bottom.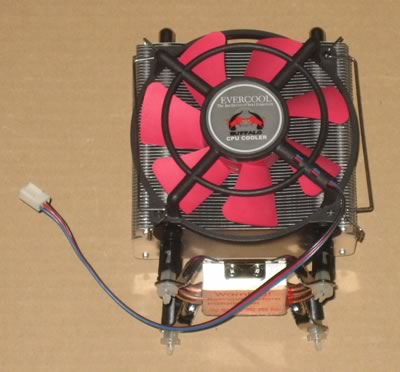 .
The 92mm rotating fan comes with the Evercool logo: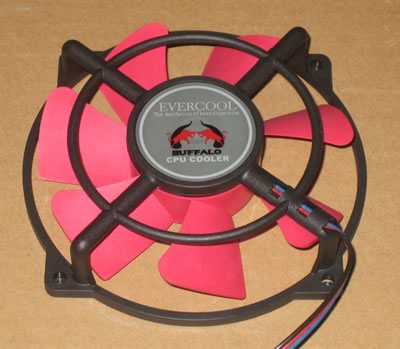 The mounting steel clips has a small detail at the end and a rubber finish:
And this how the fan look like when you are using the the steel clip
- Installation
The installation procedure is very simple since the Evercool Buffalo uses the Intel standard mounting type. In case you don't are not familiar with that process, just visit this page.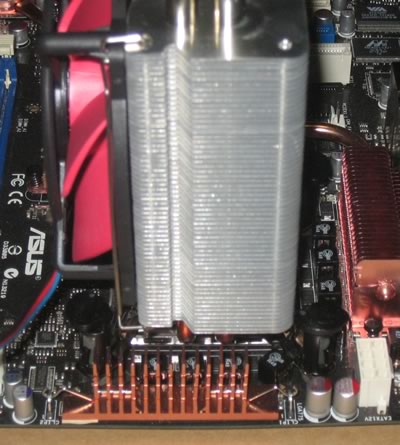 The Buffalo cpu cooler was installed at the Soprano midi ATX case PC case.
- Ratings (without benchmarks)
| | |
| --- | --- |
| Retail package | |
| Design | |
| Motherboard compatibility | |
| Installation time | |
| Copper Base quality | |