Battle of the CPU Coolers - March 2008
9. Thermalright SI-128SE
| | |
| --- | --- |
| Manufacturer | ThermalRight |
| Model | |
| Price | |
| Category | Power Users |
ThermalRight is a well respected company among enthusiasts mainly for their very good quality and of course performance. We will test today the SI-128SE, a product that aims in silent (passive) cooling, that of course needs a 120mm rotating fan to improve overall efficiency.
- Features
Works optimally with a quiet, low RPM 120mm fan
Proprietary thru-holes adopted from the HR-series to increase air flow movement
8mm heatpipes with high heat transfer efficiency
Patented support bar design preventing heatsink from deformation over time
Increased height of heatsink fins for better motherboard compatibility
Fan blow down design helps to cool CPU surrounding
- Specifications
Dimension : L125 x W145 x H91.5 mm (heatsink only)
Weight : 510g (Heatsink Only)
INTEL: All Intel P4 LGA775 processors
AMD: Intel Socket AM2 Athlon64 / FX / X2 / Opteron
- Retail package
The retail package of ThermalRight came at a no-so-impressive cartoon box, with only the ThermalRight logo upon it
Inside the box you can find many installation clips either for Socket 775 (Intel) or AMD AM2 sockets
The SI-128SE is a very impressive cooler. While it is designed for passive (silent) cooling it can also be used from power users, after installing your favorite 120mm fan.
Lets now zoom at the base. The finish is almost perfect. The base is constructed of two pieces, a nickel-plated copper bottom and an aluminum top cap, with the four heatpipes sandwiched in between.
The Thermalright SI-128 SE has four 8mm copper heat pipes to transfer heat from the base into the array of aluminum fins. The heat pipes' diameter is kind of larger than what we find with similar coolers.
- Installation
ThermalRight has a web page with detailed instructions on how to proper install the cpu cooler and get everything together.
First you have to get the backplate base prepared as follows.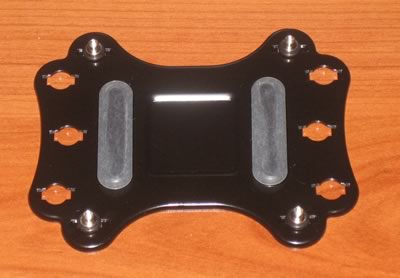 Then you have to install the motherboard clips:
And mount the whole structure with the included installation tool
Due to the design, you can only install the SI-128SE in one way, but overall there is much free space lest around the cpu area.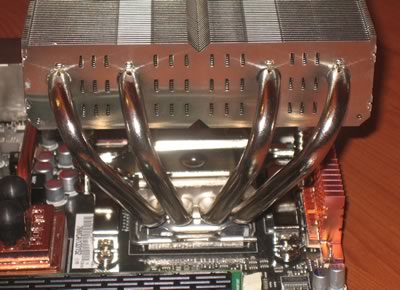 Getting access to install the cpu cooler is pretty much effortless
For our tests we used the Noctua NF-P12 as the following picture shows:
Something we noticed is that the two small aluminum heatsinks may interfere with the case rotating fans, in our case it simply came very close: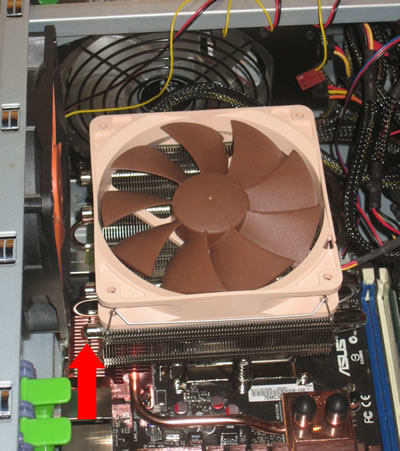 A top view shows the overall volume of this cpu cooler
- Ratings
| | |
| --- | --- |
| Retail package | |
| Design | |
| Motherboard compatibility | |
| Installation time | |
| Copper Base quality | |