Battle of the CPU Coolers - March 2008
2. CooLink Silentator
| | |
| --- | --- |
| Manufacturer | CooLink |
| Model | |
| Price | $56 |
| Category | Power Users |
The CooLink Silentator promises to offer extended cooling dispass and quiet operation. There is an obvious similarity with Noctua's products, which is true, since Noctua products are manufactured in Coolink's factories. The Silentator employs the SecuFirm mounting system. The noise levels of the SWiF-1202 can be reduced to a mere 14dB(A) by using the supplied PCI-bracket fan controller.
- Features
3 high-performance Dual-Heat-Pipes
37 Aluminium-Fins with a surface area of more than 3500cm²
Soldered joints for optimal heat-transfer
Original SWiF-1202 quality fan with high precision double ball bearing
Adjustable between 14 and 24dB(A)
Tool-free fan-mount including anti-vibration strips
Original SecuFirm™ mounting system*
Can be turned by 90° for optimal positioning and compatibility
Available for LGA 775, AM2 and K8 (754, 939, 940)
36 months warranty
- Retail package
The retail package of CooLink Silentator is rather big and includes all you need to get things started.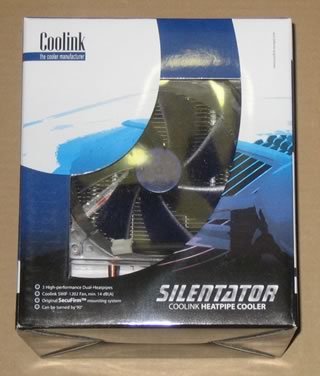 The cooler supports AMD K8, AM2 and Socket 775 platforms. Each package has been tagged for easy access and you can use whatever fits your needs. There is also a fan controller that can be mounted at the back, several extra mounting screws, thermal paste, etc.. Again, the included manual should be read before attempting to install the Silentator.
The CooLink Silentator is made our of a copper base with U-shaped copper heatpipers and aluminum fins. There is a also a typical 120mm rotating fan pre-installed
The base includes a protective sticker to avoid scratches
- Installation
Everything you need for the installation is included, allowing installation in either horizontal or in vertical position. For our tests, we placed the cooler horizontally as shown on the photos bellow:
Before placing the cooler you need to install two additional plates that secure the whole structure. Remember to remove the pre-installed cooler first.
After sometime, our cpu cooler is ready and armed. Just re-install the included 120mm rotating fan.
This is how the cpu cooler will look like after installed in a case. Note that there is enough space at the back, in case you need to add an extra 120mm rotating fan. There are some steel clips included for that purpose.
In case a second fan is available, the total weight might reach up the1kg. We cannot be sure that this is safe for you motherboard. But if you are up for it, the installation process for the second fan is very easy.
- Ratings (before benchmarks)
| | |
| --- | --- |
| Retail package | |
| Design | |
| Motherboard compatibility | |
| Installation time | |
| Bottom Base quality | |