Battle of the CPU Coolers - March 2008
1. Coolermaster Hyper 212
After our first look into various cpu coolers last month, its about time to make another roundup with several new cpu coolers, mostly for Socket 775 platform. Al the cpu coolers were tested under exactly the same environmental conditions and of course using the same testing methodology. Before running the benchmarks, let's meet those new cpu coolers.
- Coolermaster Hyper 212
| | |
| --- | --- |
| Manufacturer | Coolermaster |
| Model | |
| Price | $43 |
| Category | Overclockers |
Coolermaster is a well respected manufacturer for general pc products and of course cpu coolers. One of their latest products comes with the codename "Hyper 212". The design of Hyper 212 includes a big rotating 120mm fan and its unique fins design promises to offer the best cooling performance.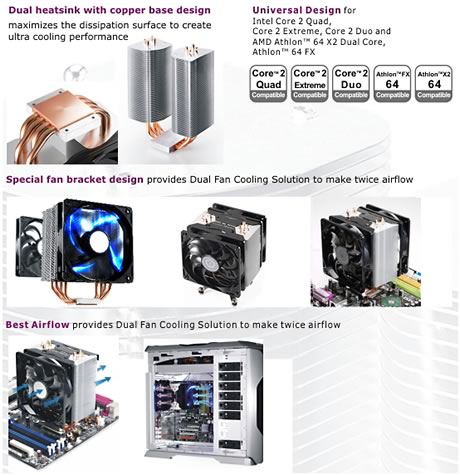 - Full specifications
CPU Socket

Intel Socket LGA775

AMD Socket (AM2/ 940/939/754)

CPU Support

Intel
Core 2 Extreme, Core 2 Quad, Core 2 Duo,
Pentium Extreme, Pentium Dual-Core, Pentium D, Pentium 4,
Celeron Dual-Core, Celeron D, Celeron

AMD
Phenom,
Athlon 64 FX, Athlon 64 X2, Athlon X2,
Sempron

Dimensions

122 x 98 x 160 mm

Weight

710 g

Heat Sink Material

Copper base/ Aluminum fin/ 4 heatpipes

Heat Pipes Dimensions

Φ6 mm

Fan Type

Blue LED fan

Fan Dimension (W / H / D)

120 x 120 x 25 mm

Fan Speed

2000 R.P.M.

Fan Airflow

69.69 CFM

Fan Air Pressure

2.94 mmH2O

Bearing Type

Long life sleeve

Fan Life Expectancy

50,000 hours

Fan Noise Level (dB-A)

19 dBA

Connector

3-pin

Rated Voltage

12 V

Start Voltage

7 V

Operating Voltage

10.8~13.2 V

Rated Current

0.35 A

Input Power

4.2 W
- Retail package
The retail package of Coolermaster Hyper 212 is big enough to give you an idea of what the volume of the cooler should be. The cooler comes complete with its own custom front and back mounting plates, backplates for all popular CPU sockets, screws and even some thermal paste.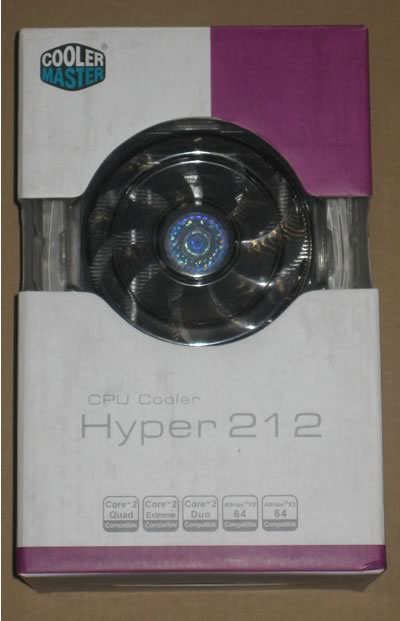 Note that due to the heatsink design, you can easily add a second fan and further improve the total cooling efficiency.
The base is made out of full copper. The four (4) U-shaped heatpipes look capable of conducting heat efficiently.
- Installation
The installation of CoolerMaster Hyper 212 is not very easy, meaning that you will probably need to read the manual and prepare yourself for the upcoming important steps. First you have to use the socket 775 plates and mount them into the copper base. Then you need to use the rubber absorbers and by flipping the motherboard upside down, secure the cooler using the the included mounting screws.
Despite the relatively large volume of the cooling system, there shouldn't be any problem with nearby motherboard components.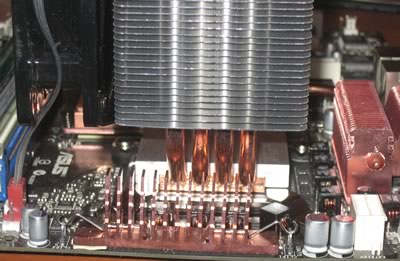 After installation, the top side of the cooler is very close to the removed side panel of our test PC.
- Ratings (without benchmarks)
| | |
| --- | --- |
| Retail package | |
| Design | |
| Motherboard compatibility | |
| Installation time | |
| Copper Base quality | |