Klipsch Custom 3 Earphone
1. Intro
A few months ago, I did a review of the Klipsch IMAGE earphones. They were, quite simply, the best earphones I had every listened to - and I have listened to just about every earphone released in the past few years. When I spoke with the members of the design team, they kept saying to me: "Just wait until you hear the Custom 3's." Now, it was very hard for me to believe that even better sound could be produced.
You can imagine my excitement when my pair of Custom 3's arrived at my door.
I have been testing these for a couple of weeks now and I am very impressed. Are they even better than the IMAGE? Are they worth $299.00? Read on for my thoughts.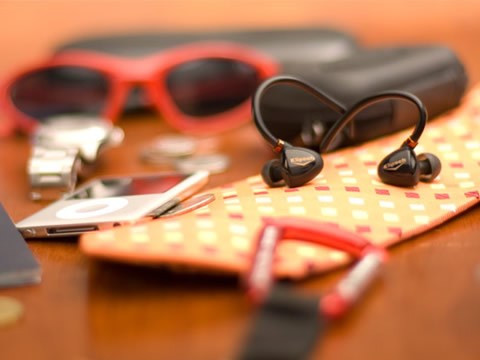 About Klipsch:
Since 1946, Klipsch Audio Technologies has been building no-compromise, premium-quality audio products. As one of the first U.S. loudspeaker companies, Klipsch is now a leading global manufacturer of high-performance loudspeakers and other entertainment products for homes, computers, professional cinemas and commercial venues.
From state-of-the-art home theater to hidden multi-room sound, Klipsch offers high-performance audio solutions for every application and lifestyle.
Klipsch distributes its "best of class" Reference Series loudspeakers and home theater systems to audio/video specialty stores worldwide. The company's Synergy Series, which represents the world's greatest value in high-performance home entertainment, can be found at Best Buy stores nationwide, Eldorado electronic stores throughout Russia and many other fine retailers worldwide.
Legend in Sound
Paul W. Klipsch (PWK), one of America's most celebrated audio pioneers, revolutionized the way people listened to recorded music in 1946 when he humbly founded Klipsch & Associates in Hope, Arkansas on the promise of corner horn-loaded speaker.
Unsatisfied with the sound quality of phonographs and early speaker systems, PWK made it his mission to reproduce the dynamics and excitement of a live orchestra performance in his living room. "I wanted something with a closer approach to accuracy in production," he once said. And that something turned out to be the company's foundation product, the patented Klipschorn.
An engineering breakthrough when it was introduced, the Klipschorn remains one of the most highly praised loudspeakers in the world and is the only speaker to be in continuous production for over 60 years.
In addition to spearheading the "Hi-Fi" era with his Klipschorn, PWK was a relentless perfectionist who earned 23 patents during his lifetime. He was also inducted into the Engineering and Science Hall of Fame in 1997, putting him in the company of Thomas Edison and the Wright Brothers, among others.