iPhone - A Thing of Beauty
It might be anti-climactic to some - since the iPhone had been the most talked about unconfirmed product in Apple's history -- but.... the iPhone was announced at Macworld yesterday. Completely upstaging all that was happening at CES, Steve Jobs made one of his incredible presentations that left everyone in the room - and everyone else in the world wondering just one thing - "when can I get one of these?"
Although we are told that Cisco has the rights to the name "iPhone," this is the name by which this previously unseen device has been known for what seems like years. A major news carrier today confirmed that Cisco and Apple have been in negotiations to clear the way (that means Apple pays a lot of money) for Apple to officially use the word "iPhone."
How does it look? It looks beautiful - 11.6 millimeter device includes a 3.5-inch 480 x 320 touch screen display with multi-touch support and a proximity sensor to turn off the sensor when it's close to your face, 2 megapixel cam, 4GB or 8 GB of storage, Bluetooth with EDR and A2DP, WiFi that automatically engages when in range, and quadband GSM radio with EDGE. Perhaps most amazingly, though, it somehow runs OS X with support for Widgets, Google Maps, and Safari, and iTunes (of course) with CoverFlow out of the gate.
Let's take a look at the highlights:
Technical Specifications
Screen size
3.5 inches
Screen resolution
320 by 480 at 160 ppi
Input method
Multi-touch
Operating system
OS X
Storage
4GB or 8GB
GSM
Quad-band (MHz: 850, 900, 1800, 1900)
Wireless data
Wi-Fi (802.11b/g) + EDGE + Bluetooth 2.0
Camera
2.0 megapixels
Battery

Up to 5 hours Talk / Video / Browsing
Up to 16 hours Audio playback

Dimensions
4.5 x 2.4 x 0.46 inches / 115 x 61 x 11.6mm
Weight
4.8 ounces / 135 grams
Design:
iPhone is a widescreen iPod with touch controls that lets you enjoy all your content — including music, audiobooks, videos, TV shows, and movies — on a beautiful 3.5-inch widescreen display. It also lets you sync your content from the iTunes library on your PC or Mac. And then you can access it all with just the touch of a finger.
That's right - no stylus whatsoever. The patented screen technology is, like pretty much every Apple product, revolutionary. Just point your finger and touch the screen. From what I can tell, the patented "virtual click wheel" seems to be incorporated in the iPhone.
Innovations:
iPhone is a revolutionary new mobile phone that allows you to make a call by simply pointing your finger at a name or number in your address book, a favorites list, or a call log. It also automatically syncs all your contacts from a PC, Mac, or Internet service. And it lets you select and listen to voicemail messages in whatever order you want — just like email.
What I liked in the demo, is that your voicemail is stored on the phone itself - just touch the voicemail button and listen to your messages without calling your Cellular provider.
Is it a Smart Phone?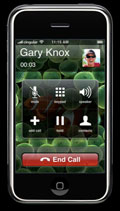 Not really - at least not in the "traditional sense" we are used to. I am not sure this is going to steal Blackberry users or high power Windows Mobile users who are constantly editing spreadsheets and Power Point presentations. But, for the rest of the world, this might be just what we need. iPhone features a rich HTML email client and Safari — the most advanced web browser ever on a portable device — which automatically syncs bookmarks from your PC or Mac. Safari also includes built-in Google and Yahoo! search. iPhone is fully multi-tasking, so you can read a web page while downloading your email in the background over Wi-Fi or EDGE. No 3G support - at least not yet.
Multi-touch
iPhone features the most revolutionary user interface since the mouse. It's an entirely new interface based on a large multi-touch display and innovative new software that lets you control everything using only your fingers. So you can glide through albums with Cover Flow, flip through photos and email them with a touch, or zoom in and out on a section of a web page — all by simply using iPhone's multi-touch display.
Intelligent Keyboard
iPhone's full QWERTY soft keyboard lets you easily send and receive SMS messages in multiple sessions. And the keyboard is predictive, so it prevents and corrects mistakes, making it easier and more efficient to use than the small plastic keyboards on many smartphones. It looks like it might take a little getting used to this kind of design - but it looks very intuitive.
Initial Concerns:
I wish it supported 3G or HSPDA, specifically, since it is debuting on Cingular's network. I also wish that the original idea (or maybe it was just a rumor) of releasing an unlocked iPhone that could be used with CDMA as well as GSM networks was available. Lots of us CDMA folks are tied into our carriers for a couple of years.
What Steve Jobs has done is opt for the "worldwide" standard of GSM. What remains to be seen is whether this will revolutionize and change the market in this country. Will millions jump to Cingular/Att&t?
Pricing and Availability:
The 4GB iPhone will go out the door in the US as a Cingular exclusive for $499 on a two-year contract, 8GB for $599. Ships Stateside in June, Europe in fourth quarter, Asia in 2008.