2. Retail box
The Akasa AK-IC009-BK costs around €25 (including VAT), making it an affordable external 2.5" case for your SATA HDD drive. The retail box is small and includes a transparent window on the front. The box supports only SATA 2.5" HDD and has both USB2.0 and eSATA connectors.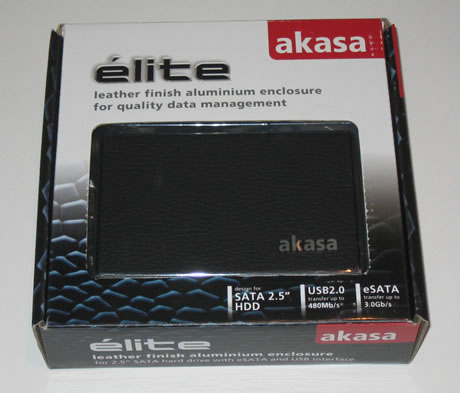 The package includes a printed manual, USB2.0 and eSATA cables.
The device is covered with black leather at the top while both sides are covered with plastic stripes:
On the left side of the case is there are the the eSATA and USB2.0 ports, an operation led (blue/white) and a 5V-DC power jack, which should be plugged when you are using the eSATA cable.
In order to install a HDD, first you need to remove the four screws found on the front and the two sides. Then you should gently place the HDD in the case and put the four screws back in place. The whole procedure should not take you more than 5 minutes.
After mounting the front metal plate, you are ready to use your HDD.