1. Features
Akasa, a well known peripheral manufacturer, recently released a new series of external cases for both 2.5" and 3.5" hard disk drives, the Elite series.
Leather finish aluminium body with brushed aluminium fascia panels and polished edges define this stylish enclosure, which goes beyond classic practicality.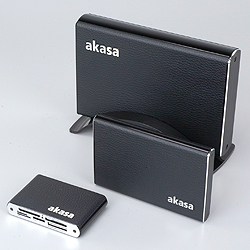 This compact élite enclosure enables external use of 2.5" SATA and SSD hard drive providing data mobility with style. It is a Plug & Play device, which gives you a connection choice between USB2.0 or eSATA allowing easy access to your files.
- Product Features
Leather finish with brushed aluminium fascia
Suitable for 2.5" SATA I/II and SSD hard disk drives
eSATA and USB2.0 connection with auto mode switching
Plug-and-play – no drivers installation required
Blue LED power and data transfer indicator
Strong aluminium body for heat dissipation and quiet operation
Powered from USB
Application
External 2.5" SATA HDD and SSD enclosure
Design for
2.5" SATA I/II and SSD HDD up to 9.5mm (D)
Interface
eSATA and USB2.0 (1.1 compatible)
Transfer rate USB
480Mb/s max
Transfer rate eSATA
3.0Gb/s max
Material
Aluminium
DC input
+5V (from USB)
Power Indicator
Blue-LED
Supported OS
Windows 2000/XP/Vista
Mac Os 9 and OS X
Plug & Play
Yes
Hot Swappable
Yes– in USB connection
Dimensions
136 x 80 x 16 mm
Product code
AK-IC009-BK