10. Conclusion
So here we are at the end of this review with a big smile on our face. Abit had a target, to please the hardcore gamers all over the world. And in my opinion they have succeeded. The AN 8 Fatal1ty is a great motherboard with exceptional quality, great performance and overclocking capabilities.
The BIOS offers great voltage and memory adjustments and even though we believe that the VDIMM options are somewhat limited, this will not affect the vast majority of users. The OTES cooling system, apart from providing pleasing visual effects, also serves by keeping the motherboard at normal temperatures without adding to the noise level. Some people may winge a bit for the lack of more onboard features, such as high quality onboard audio, additional SATA channels and SLI, but afterall, this motherboard was made for those who prefer less things and more speed for their gaming pleasure.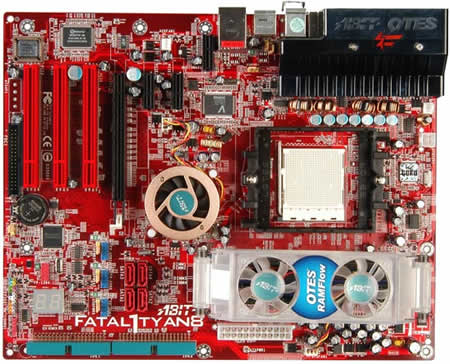 Also, modders will simply love the bright red LED's on the AN8 and the red light of the OTES fans in the back. One of the major advantages of this motherboard is also the careful selection of the various components like the Japanese made capacitors, that give reliability and stability to the overall system.
The price of the AN8 Fatal1ty is round US$190, which is near the top of its class although most of the nForce4 based motherboards are in this price category and as we already mentioned, the quality of the product sometimes justifies the price. From our point of view, all you modders and gamers have the green light to buy this product, it is really the perfect board for you.-
PROS
High quality components
Great tuning and overclocking abilities
Very effective cooling system (OTES)
Stylish design
Ergonomic
Good networking capabilities including ActiveArmor and NVIDIA Firewall 2.0
Multiple USB and Firewire connections for internal and external use
CONS
Minor design flaws
Price at the top of the category
Limited VDIMM option
| | |
| --- | --- |
| Retail Package | |
| Design/Build Quality | |
| Performance | |
| Value For Money | |