8. Overclocking
Overclocking the AN8 Fatal1ty is a surprisingly easy task. We were very pleased, especially byt the fact that we never even touched the CMOS jumpers. When Overclocking fails, the motherboard simply returns to its default values saving on time and nerves.
As we already saw, Abit's BIOS is armed to the teeth with all the available options for overclocking and the nGuru menu makes things a lot easier. But even when we witnessed in other cases a 4000+ CPU pushed up to a 300 MHz FSB, with our test system we couldn't overcome the 240 MHz barrier. And even at this frequency, the 3D Mark 05 benchmark refused to run properly.
Note that when we raised the CPU's FSB, we left the memory modules at their default settings. For the test we used 3D Mark 05 and the games DOOM 3 and Half Life at the most common resolutions, 800x600, 1024x768 and 1280x1024. The reason is that we didn't want to push the graphics card to the limits, but to evaluate the total system's performance.
-HALF LIFE
The gain in frames per second is not so impresive as the FSB rises, but dont forget that this motherboard is dedicated to the hardcore gamer so every frame counts.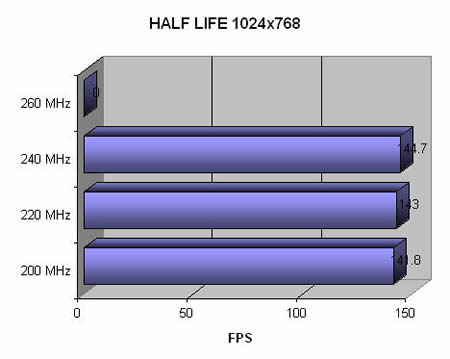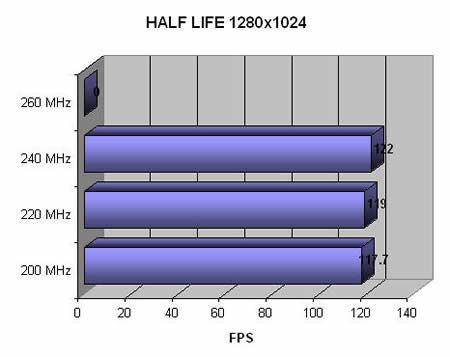 -DOOM 3
Doom proved to be much heavier and demanding in power but even here we have a good amount of frame gain in all the steps of the overclocking.
-3D MARK 05