9. Memory Overclocking
The next test we carried out was to leave the CPU at its default settings and raise the DDR frequency. As we already said, Abit's AN8 gives many options for memory overclocking with the only bad thing being the limited voltage options. The voltage was adjusted to the highest available setting the motherboard gives, 2.80v.
We performed this in three steps: at 266, 333 and 400. We made the evaluation using the Everest diagnostic and benchmarking program and the RightMark Memory Analyser utility.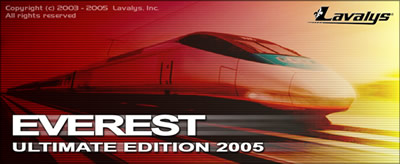 EVEREST Ultimate Edition is an industry leading system diagnostics and benchmarking solution for enthusiast PC users, based on the award-winning EVEREST Technology. During system optimizations and tweaking, it provides essential system and overclock information, advanced hardware monitoring and diagnostics capabilities to check the effects of the applied settings. CPU, FPU and memory benchmarks are available to measure the actual system performance and compare it to previous states or other systems. Furthermore, complete software, operating system and security information makes EVEREST Ultimate Edition a comprehensive systems diagnostics tool that offers a total of 100 pages of information about your PC.
266 MHz
The performance is really excellent, even comparing against the default systems in Everests data bank.
READ

WRITE
LATENCY
333MHz
At 333 MHz, we already see the read, write and latency results making a big difference, something that affects the performance positively.
READ
WRITE
LATENCY
400 MHz
Great increase in performance and amazingly, low latency timings. What else could we ask for?
READ
WRITE
LATENCY
RIGHT MARK MEMORY 3.5
RightMark Memory is a very useful diagnostics and benchmarking tool with which we can see details about the memory modules as well as measure their performance. In the first three screens, we see the actual frequency of the modules as well as the timings which are at an excellent 2-2-2-5. We must also say that the timings were manually adjusted from Abit's BIOS, since the modules from OCZ we used were set by default to SPD 2,5 -3-3-7.
266MHz
333MHz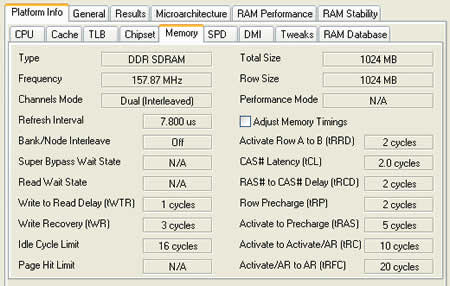 400MHz
Performance really went sky high with the rise in the frequency for both the read and write tests. This tuning alone, even without the overclocking of the CPU, can make a big difference in the gamers hunt for a few more frames per second.