Zidoo X9 Media Player review
6. KODI, HDMI recording
The player supposedly uses a hardware-accelerated KODI that can support up to 4K H.265 video playback. The box comes with Kodi 14.0-RC3 Zidoo edition and the interface runs at 1920x1080@60Hz. Probably Zidoo needs to upgrade this to the latest 14.1 builds: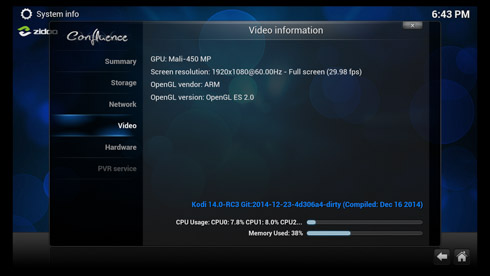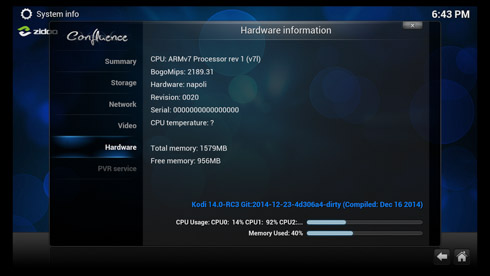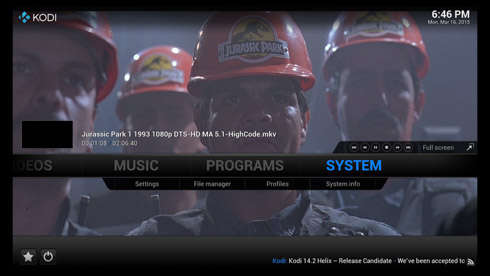 The 'Audio' output settings tab includes options to output Dolby Digital (AC3), DTS, TrueHD and DTS-HD files: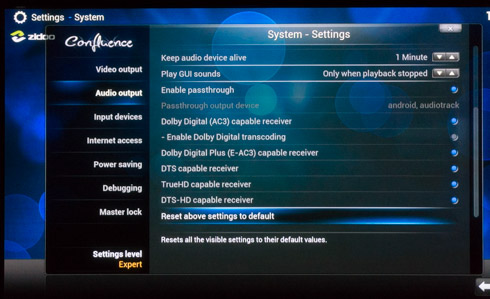 While things should work just fine in theory, we had several problems with the audio files. In some cases the type of the audio file was detected but with many audio cuts, while other files had no audio at all.
We connected a USB3.0 device loaded with many video/audio test files to the Android player and got the following results:
Audio format

Results

Dolby Digital 5.1 (AC3/THX/TrueHD)
Playback is jerky and video/sound not in sync
Dolby Digital+ 7.1
KODI crashes
Dolby TrueHD 7.1
DTS 5.1
Playback is jerky and video/sound not in sync
DTS-HD MA 7.1
Playback is jerky and video/sound not in sync
As it seems KODI support needs improvement.
- HDMI recording
HDMI input is the main selling point of the device, and you need to plug a device at the HDMI-in in order the corresponding app to open, bringing you the following user interface. Here you can set the recording path to the internal flash or external USB storage. You can send select the resolution (VGA, 720p or 1080p), the video container (MP4 or TS), and optionally the start time, and the length of the recording:
The player uses only the internal memory to record. In our case, for the HD/TS format, we were given around 6 hours and 23 minutes of recording. You can set the recording time as shown below:
By starting the recording, the app minimizes and you can bring it back by using the the menu button of the remote. A small Rec icon is displayed at the top right corner of the window. Of course you cannot use other functions of the media player during the recording process:
For our tests we used the Eweat EW902 media player as an input source and we tried to record the 'Jurassic Park 1' 1993 1080p DTS-HD MA 5.1-HighCode movie, playbacked in the default Eweat media player.
The produced file had a resolution of 1920x1080x30fps and 2-channel AAC (121Kbps) audio. Of course, do not expect the quality of the backup video to be as high as the original but generally, it should be considered as acceptable. We also noticed that the produced video had several black border pixels , so it didn't fit in the current playback window.
For an 1h .24m recording session we ended up with a 39.128MB TS file.