3. Test System
For our review, we used the following components:
Processor: AMD64 3500+ NewCastle (939 socket)
Case: Antec 1080AMG
Motherboard: A8N-SLI Deluxe
Memory: 2x512MB Corsair XMS TWINX1024-3200XL Memory
Hard Disk Drive: WD800JD 80GB 7200RPM
DVD Burner: Pioneer DVR-A08XLA
Power Supply: EzCool 550Watt
OS: Microsoft WindowsXP Pro SP2
DirectX: v9.0c
Nvidia ForceWare: 81.98
At first, when we started the PC, the temperature was close to 49°C. After some time, without doing anything, the temperature increased to 51°C, which is close to the typical temperature that we had seen on other cards, even when running everyday applications under Windows. During the 3DMark05 benchmarks, the temperature climbed up to 69°C, with the default clock speeds of 450/1250.
| | | |
| --- | --- | --- |
| | idle | while benchmarks |
| Default clocks | | |
| Overclocked | | |
When we overclocked the card at speeds of 480/1320, the temperature during 3D Mark05 climbed up to 74°C, which we think is too high for such a small increase. The cooling system that XFX declares to be 2x cooler than its competitors, is not evident here, since we have seen lower temperatures from other card's, especially ones that were equipped with an NV Silencer from Arctic-Cooling.
Software that we used:
- 3DMark05,03,01
- Codecreatures Benchmark Pro
- AquaMark3 v3.0
- RivaTuner
- Half Life 2
- Quake 4
- Ground Control II
- F.E.A.R.
- Need For Speed: Most Wanted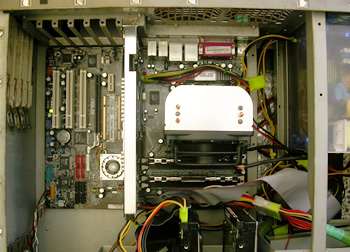 For comparison, we will be posting the results of the XFX 7800 GTX along with the results of the Club3D X1800XT and XFX 7800 GT.