11. Need For Speed - Most Wanted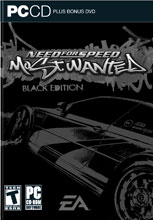 Wake up to the smell of burnt rubber as the thrill of illicit street racing permeates into the air.
Combining illicit street racing and tuner customization with the intensity of strategic police pursuit that surpasses any Hollywood-style chase scene, Need for Speed Most Wanted will be on every gamer's 'must-have' list this holiday season. Out-race rivals, evade cops and exploit hundreds of miles of open road as gamers make their way up the Blacklist.
To become the most wanted racer, players must build up their street cred and Rap Sheet with gripping, white knuckle, head-to-head races with the top drivers on the streets, as well as pull daring, evasive moves to out-run and out-fox the cops that patrol the open road. Players can manage their heat or utilize a number of strategic tactics to keep the cops off their tails as they leave their rivals behind to suck their exhaust fumes.
- Benchmark Settings
NFS Most Wanted does not include a default benchmark. To measure the card's performance, we've chosen to record the framerate at the start of a circuit race with end-game cars. The starting point tends to be one of the most graphically demanding sections because of the smoke created by spinning wheels added to the rest of the game's visual effects. If a card can pass this stage with an acceptable framerate, it is a guarantee that it will face no problems with the rest of the game.
The resolutions we used are 800x600, 1024x768, 1280x1024 and 1600x1200. We measured performance at the lowest and highest possible settings.
Once again, with NFS, the 7800 GTX continues to hold the lead. The interesting thing is that both the 7800 GTX and X1800XT both remain steady in their framerate, regardless of resolution with the X1800XT being slower by around 6 fps.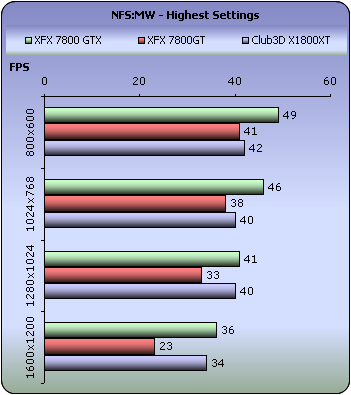 Again, both the 7800GTX and X1800XT are fairly steady and at the higher resolutions, there is very little between them.