Thermaltake Massive 23 LX Notebook cooler
2. A closer look
The Thermaltake Massive 23 LX is packaged into a large carbon box:
The package includes two installation guides in several languages and a warranty card:
Lat's have a look to the device. As you can see in the picture below, we have to do here with a laptop cooler big enough to cover the cooling needs of 10~17" laptops. The cooler measures 376 (L) x 300 (W) x 51.5 (H) mm and its weight is ~900gr, which is not much for its dimensions. An impressive 20cm fan is placed below an aluminum mesh. It is spinning at s 600 ± 10% RPM and we can assure you that it remains totally silent, as we measured just 17dBA of noise at 600rpm!
The cooler also includes rubber feet, both top and bottom, to prevent your laptop or the cooler slipping as well as two carrying handles: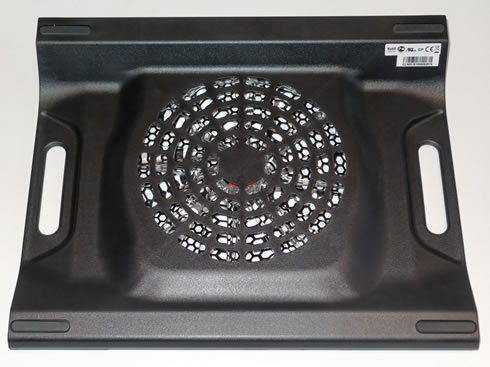 At the rear side there is a USB storage box, which has the USB cable indide:
The included USB cable powers up the cooler. We would like to see a longer cable here since not not all laptops have their USB ports placed at their left side:
The left side includes the basic controls of the cooler. Here you can identify two USB 2.0 ports, a fan on/off switch and a led on/off switch as well. A small led green LED also indicates the operation state of the cooler: