ThermalTake Launch Toughpower 1200W/1000W Power Supply
The new additions are the responses to higher power demand from both ATI and Nvidia's graphic card consumption that allows for unprecedented graphic realism and image quality. Toughpower 1000W and 1200W will both feature three industry's first 8-pin PCI-E connecters as well as three original 6-pin PCI-E connectors configuration to support the Quad GPU system setup. The 8-pin PCI-E connector is the next generation standard power connector for both ATI and Nvidia high-end graphic cards; it is downward compatible with the existing 6-pin PCI-E connector with an 8 pin to 6 pin converter. Thus, even there are only 6-pin sockets available on the graphic cards, Toughpower 1000W/1200W can still run Quad GPU system with no problem.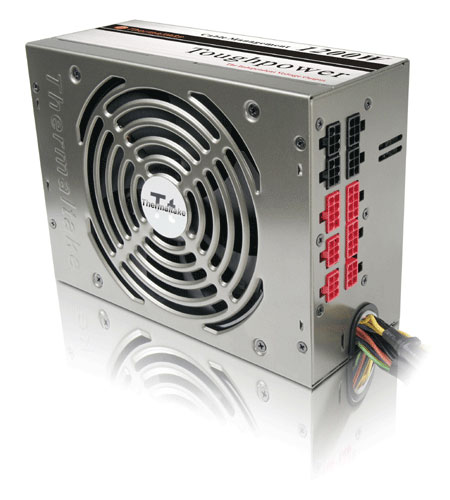 Four dedicated 12V rails, tightly regulated voltage (±3%) and Active PFC found on Toughpower provides unparalleled reliability and stability. The use of industrial-grade voltage controller and on time control enables high-efficiency across all rails that exhibit up to 87% efficiency even under high-loading status; significantly lowering operating cost in addition to lower thermal overhead especially for user who operates PC continuously.
Toughpower 1000W and 1200W both complies with the most updated Intel ATX 12V V2.2 for desktop and EPS 12V V2.91 for workstation or server platform. On top of three 6-pin PCI-E and three 8-pin PCI-E connectors, eight SATA power connectors and eight Molex connectors presents full array of future hardware upgrades. Cable Management feature eliminates clutters inside the chassis for great system airflow and improved thermal management. Ultra-quiet dual ball bearing 14cm fan with automated thermal control only increases fan speed when needed and maintains lowest noise level during idle or low power usage status.