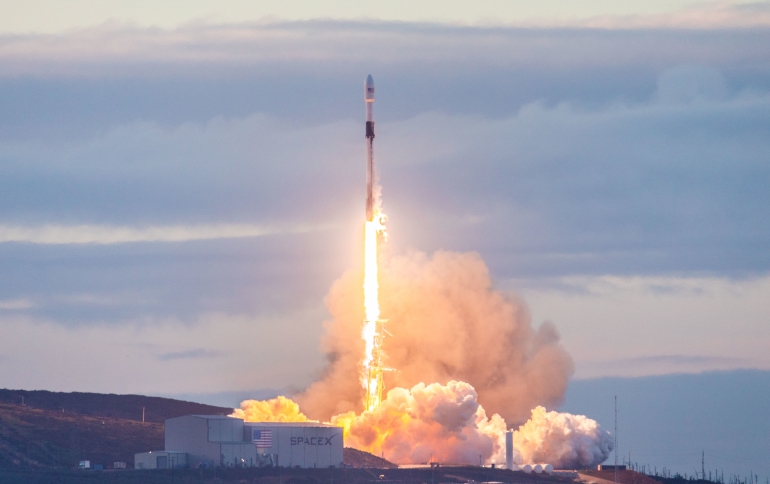 SpaceX Launches And Lands Its First Rocket For This Year
On Friday, SpaceX successfully launched the eighth and final set of satellites in a series of 75 total satellites for Iridium's next generation global satellite constellation, Iridium NEXT.
Falcon 9's first stage delivered the second stage to its targeted orbit followed by deployment of all 10 Iridium NEXT satellites approximately 1 hour and 12 minutes after launch.
Following stage separation, the first stage of Falcon 9 successfully landed on the "Just Read the Instructions" droneship stationed in the Pacific Ocean. Due to mission requirements, SpaceX did not attempt to land Falcon 9's first stage after launch.
Falcon 9's first stage for the Iridium-8 mission previously supported the Telstar 18 VANTAGE mission in September 2018.
The United States' Global Positioning System delivers positioning, navigation, and timing services supporting U.S. and allied operations worldwide. The United States Air Force's first GPS III satellite will augment the current constellation of 31 operational GPS satellites. This newest generation of GPS satellites is designed and built to deliver positioning, navigation, and timing information with three times better accuracy, and up to eight times improved anti-jamming capability. GPS is used by over four billion users and supports critical missions worldwide.
In April 2016, SpaceX was awarded its first NSS mission, GPS III SV01. This launch brings the total number of orbiting satellites in this constellation up to 75, with six more planned to launch in the future, at a total cost of about $3 billion. SpaceX currently has an additional four GPS III missions on contract, all of which will be launched on Falcon 9.
Limiting workforce
In related news, SpaceX on Friday announced plans to reduce its workforce by about 10 percent of the company's more than 6,000 employees.
"To continue delivering for our customers and to succeed in developing interplanetary spacecraft and a global space-based Internet, SpaceX must become a leaner company. Either of these developments, even when attempted separately, have bankrupted other organizations", SpaceX said.
In June, Elon Musk reportedly fired people in the senior management team leading a SpaceX satellite launch project. The firings were related to disagreements over the pace at which the team was developing and testing its Starlink satellites that will be used in a new satellite-based internet service.
The company has also outlined plans for a trip to Mars in 2022, to be followed by a manned mission to the red planet by 2024.