Mushkin Presents New SSDs at CES 2019
Mushkin joinrf CES 2019 at Las Vegas presenting its new product lines for this year, including new M.2 2280 PCI-express solid-state drives, 2.5-inch solid-state drive, and two external solid-state drive storage solutions featuring USB 3.1 Gen2 and Thunderbolt 3 connectivity.
Mushkin Pilot-E
The flagship Pilot-E is an M.2 2280 PCIe solid-state drive that features the Silicon Motion SM2262EN Controller and Mushkin's M.E.D.S.. The SSD uses the PCIe x4 interface and is NVMe 1.3 compliant offering twice the capacity of the previous generation Pilot NVMe SSD (Silicon Motion SM2262) as well as deliver 30% more performance with speeds of up to 3300MB/s read and 2500MB/s write. The Pilot-E will still be using the same Micron 64-layer 3D TLC NAND as the original Pilot, so all the performance improvements will be a result of controller and firmware changes.
The Pilot-E NVMe SSD will be available in 250GB, 500GB, 1TB, and 2TB capacities.
Mushkin Helix-L
The Helix-L is a value-oriented NVMe SSD with the DRAMless Silicon Motion SM2263XT controller that uses the NVMe Host Memory Buffer feature and
96-layer Micron 3D TLC NAND. It is offering speeds of up to 1700MB/s read and 1500MB/s write.
The Helix-L will be available in 250GB, 500GB and 1TB capacities.
Mushkin Source 2
Designed using Silicon Motion's SM2259 controller and 96-layer 3D TLC NAND, the Mushkin Source 2 SATA SSD offers a balance of reliability and performance. The Source 2 offers speeds of up to 560MB/s read and 520MB/s write. It will be available in the second quarter of 2019 in 120GB, 250GB, 500GB, and 1TB capacities.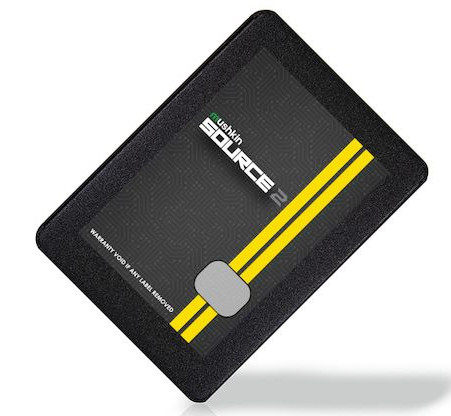 Mushkin Carbon X100
The Carbon external SSD integrates a desktop-class SSD featuring 3D NAND memory and a USB 3.1 Gen 2 Type-C controller.
The SSD is based on Silicon Motion's SM2263XT controller and is equipped with 500 GB or 1 TB of 3D TLC NAND memory. It is offering fast data transfer speeds of 1000/1000 read/write speeds, up to 500% faster writing speeds than a standard USB 3.0 flash drive. Random speeds are quoted at 115K/88K IOPS for reads and writes.
The Carbon X100 SSDs will be available in Q2 2019.
Mushkin Carbon Z100
The Carbon Z100 is also a portable external solid-state drive but uses Thunderbolt 3 connectivity.
The drive uses Silicon Motion's top-of-the-range SM2262EN controller as well as 250 GB – 2 TB of 64-layer 3D TLC NAND flash memory. The Carbon Z100 are rated for up to 2210 MB/s sequential read speed as well as up to 1355 MB/s sequential write speed. Random performance is at 263K/180K read/write performance levels.
Mushkin expects Z100 SSDs to hit the market sometimes in the second quarter.