1. Introduction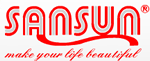 The PC case market is growing continuously larger, with a greater number of new additions from numerous manufacturers, sometimes good and sometimes not so good. Fortunately, we haven't as yet encountered a "not so good" addition and this review is no exception. the Sansun group has provided us with it's latest model and we immediately got down to reviewing it. Note here, that the BAT case or SN-C001 model, comes in four colors. Yellow, red, blue and black, which is the one that came to our labs. And so, we begin...
Ever thought of a hero-look case for your PC? Sansun is offering this with its latest PC case release, the BAT model, a Batman inspired product, as its name indicates. A standard middle ATX case, the BAT is sure to catch the eye with its design and lighting effects. As we will see later on in this review, the complete image of this PC case is exciting as are all PC case products manufactured by Sansun. For now, let us go over the main specifications for the BAT case as given by the Sansun group.
- Specifications
Model
SN-C001
Type
ATX Middle Tower
Mainboard
Intel P4/ AMD K7, K8/ MP Dual CPU 12" x 13"
Expansion slot
7 full slot covers
Drive Bay
4 x 5.25"
2 x 3.5"
4 x 3.5"HDD
Material
SECC, 0.7mm thickness
Power Supply
PSII
Optional Cooling system
Front: 8cm x 1
Rear: 8cm x 2 or 12cm x 1
I/O
USB x 2, Audiox 2, IEEE 1394 x 1
Tool free kits
Optional
Case Dimension
440D x 200W x 430mmH
At first glance, the BAT case is nothing more than a normal case with a fancy exterior. As we progressed, investigating the inner parts of the case, we found that it holds many surprises for the end user. Let's have a look at the BAT case features.
- Features
As we mentioned above, the BAT case, offers some interesting features, which are bound to impress and satisfy the potential buyer. The end buyer is presented with a complete ATX case, a fancy looking design and lots of interesting features, which are aimed at simplifying the installation process while also offering a certain amount of flexibility.
Let's have a look at the features one by one...
- Fancy Mask outside with Bat's wing shape side panels, are the first things you will encounter upon opening the retail box. This gives and exciting look to the PC case, which will quickly draw the attention of any Batman fan as well as Case modding enthusiasts.
- Unique mirror finished treatment, makes the case even fancier, in comparison to other retail stock cases.
- Bat grill+ 8cm fan for extra ventilation
- Optional 80mm Air conductor guides the CPU heat out of the case, for complete airflow and heat management.
- Removable HDD Cage and FDD cage, for easy, tool-less installation of HDD and FDD drives
- Screw-Less Clip For 5.25" Disk and I/O (optional), another useful feature for tool-less installation
- Special I/O port on top design with dust-proof cover, the last and most useful feature which offers easy access to important I/O ports.
Now that we've covered the basics, let us move on to the rest of this review and the case itself.