4. DVD reading speeds
DVD-ROM SL media
PTP DVD-ROM
The two layers of a PTP DVD-ROM disc are read sequentially with the drive starting reading from the inner part of the disc, which is the beginning of each layer, progressing towards its outer range.
OTP DVD-ROM
The first layer of an OTP dual layer DVD-ROM is read exactly the same way as the first layer of the PTP disc we tested previously. The difference here is the reading strategy of the second layer of the disc. The beginning of the second layer is located in the outer part of the disc, so the drive starts reading from the outer tracks and progresses towards the inner part of the disc.
DVD-R
DVD-RW
DVD+R
DVD+RW
DVD+R DL
DVD-R DL
DVD-RAM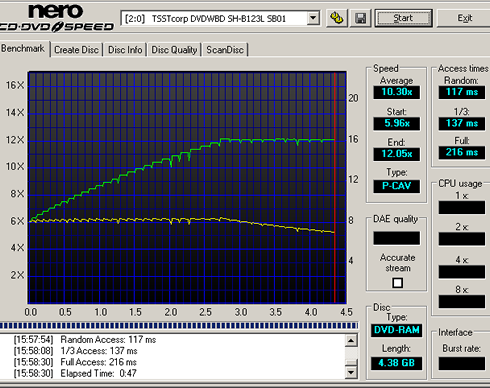 DVD Video Ripping
Ripping of a single layer DVD movie:
| | |
| --- | --- |
| | Samsung SH-B123L |
| Average | 8.145 KB/s (5.9x) |
| Maximum | 11.504 KB/s (8.3x) |
Summary
The Samsung SH-B123L is a fast drive for your DVD media. It can easily compete other DVD burners and BD ROM drives.