Samsung 970 PRO 512GB SSD review
3. CrystalDiskMark
CrystalDiskMark is a disk benchmark utility provides throughput data based on sequential reads and writes, and random (512K/4K/4KQD32) reads and writes of various sizes. We used both the older v3.04 and the newest v6.0.2 versions of the software, under both compressible and incompressible data modes. Below you see the results of both the older CrystalDiskMark v3.04 and the v6.02 versions.
Samsung 970 PRO's rated sequential speed of up to 3,500 MB/s read and 2,300 MB/ write were confirmed, with one worker at a queue depth of 32.
The test results were plotted in the following graphs.
Samsung's 970 PRO SSD left behind the second faster ADATA XPG SX8200 drive in the SeqQ32T1 read test, although it was a bit slower than both the ADATA's SSD and the Samsung 950 Pro SSD in the sequential QD1 read benchmark:
The 970 PRO's 4K random read performance at QD1/QD32 was a slower than we expected in this benchmark, with the Samsung 950 Pro and the ADATA XPG SX8200 SSDs to be faster:
Compared to the rest drives in the chart below, the 970 PRO SSD was fast in the sequential write tests. The Toshiba XG6 SSD has the lead at higher QDs but returns to the second place behind the 970 PRO in QD1 sequential write: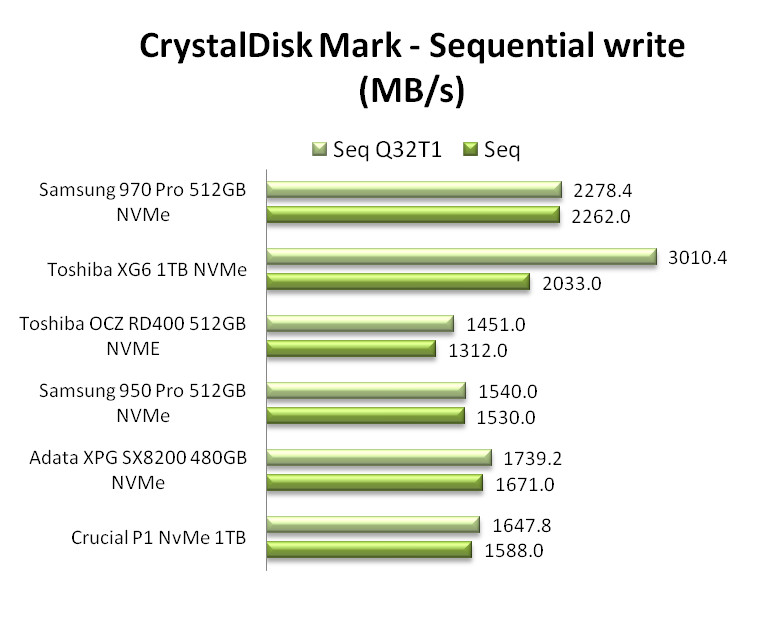 In the 4K write tests, the 970 PRO SSD stayed behind the ADATA XPG SX8200and the 950 PRO SSDs: