5. Protected Disc Tests - Reading Tests
In order to test the ability of the Pioneer K14L drive in creating an image of a protected disc, we used the well known image maker Alcohol 120% and three types of protected media, one being a PSX game, one with the SafeDisc protection and one with SecuRom protection. Below are the transfer rates and durations of the drives in each case.
| | | | |
| --- | --- | --- | --- |
| Game Title | Protection Scheme | Duration | Reading speed |
| PSX "NBA Jam Extreme" | Lybcrypt | 1:36 min | 921 sectors/sec |
| Serious Sam The Second Encounter | SafeDisc v.2.50.051 | 52:59 min | 105 sectors/sec |
| VRally II | SecuROM v.2 | 4:21 min | 1277 sectors/sec |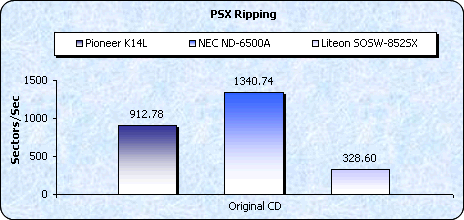 With the PSX and Vrally (SecuRom) protected media, the drive produced good results with regards to speed, second in the comparison with the other two drives. As for the Safedisc game, the drive completed the ripping in about an hour, so it's quite obvious that it didn't do as well as with the other games. Overall an average performance.
- Writing Tests
The Pioneer K14L supports the DAO-RAW writing mode. For checking the drive's EFM correction status, we used 3 different game titles with different SafeDisc 2 versions having the latest software patches installed. After making the images of the various titles onto the hard disk, we burned them (at maximum speed) with Alcohol 120% v1.9.2.1705. Two different discs were created for each title; one with the "Bypass EFM error" enabled and one more with the function disabled.
Fifa 2004 - Safe Disc v3.1x
The Sims Superstar - Safe Disc v2.9x
The Sims Unleashed - Safe Disc v2.8x
Serious Sam Second Encounter - Safe Disc v2.51.021
Max Payne - Safe Disc v2.51.020
The table below shows the results of the attempted backups and whether they worked (game installed / played normally), or not.
Drive

Fifa 2004
SD v3.1x

Sims Superstar
SD v2.9x
Sims Unleashed
SD v2.8x
Serious Sam-Second Encounter
SD v2.50.051
Max Payne
SD v2.51.020
EFM OFF
EFM ON
EFM OFF
EFM ON
EFM OFF
EFM ON
EFM OFF
EFM ON
EFM OFF
EFM ON
Toshiba
SD-M1502
No
Yes
Creative CD5233E

Pioneer K14L/K04L