9. DVD Writing Tests
Writing Performance
Now we will check the burning performance with DVD media. Below, the available writing speeds, as reported by Nero Burning Rom.
- DVD+R media @ 16X CAV
- We faced some problems with the Create Data Disc function. After some initial burns using Nero Burning Rom and CDSpeed, we were unable to burn any more media with the drive. Hence, we are unable to provide any screenshots of the writing strategies. We are not sure if this is a firmware problem or what seems more likely, a faulty drive. Pioneer will in the meantime, be shipping another unit to us, so that we can complete our tests.
*Updated
Fortunately, we were able to complete the transfer rate test and have posted the DVD-R writing strategy below.
- DVD-R media @ 16X CAV
- Burning Tests
DVD-R media
Only 5 out of 11 media were burned at their 16X certified speeds, while all the other 16X media were burned at 12X. Also, three 8X media were over-sped and burned at 12X. Times were very respectable, considering the drive took just over 6 minutes for a 16X burn. The exception here, is the Datasafe 16X media, which took more or less the same time as a 12X burning. Overall, low 16X compatibility, a new firmware can fix this easily.
DVD+R media
Once again, bad 16X compatibility and this time, only 3 out of 12 media were burned at 16X. Taiyo Yuden 8X media was burned at 12X but then we had BenQ 8X media burned at only 4X. Nevertheless, the recording times are not too bad with 6:42 minutes for 16X and a little over 8 minutes for 8X.
- Comparison with other drives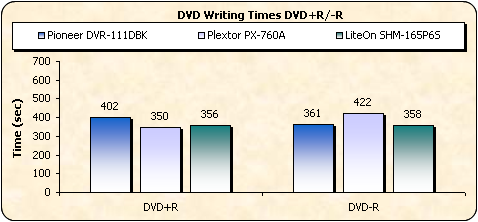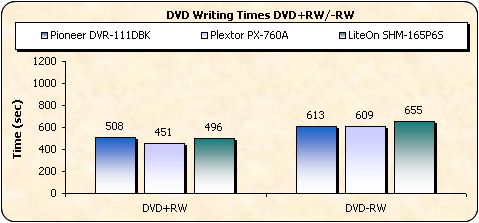 The lower the better. A bit of a mixed bag from the Pioneer drive, with good times for the minus formats but a little slower in the plus.
- DVD Overburning Tests
Using Nero CD-DVD Speed, we tested to see if the drive can overburn using DVD+R and DVD-R media. Unfortunately, the drive does not support overburning.