24. Booktype Setting
The booktype setting is a feature widely supported by almost all recent drives, as it enables the change of the booktype for specific media (DVD+R,+RW,+RDL to DVD-ROM), to achieve maximum compatibility with stand alone players (mostly outdated ones). This can be achieved prior to burning the inserted media or during the burn process (at the beginning with Nero or another burning software).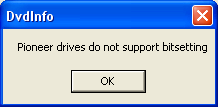 The booktype cannot be changed. However, by default, it is set to DVD-ROM only for DVD+R DL media.