Pegasys Releases The All-New TMPGEnc Authoring Works 5
Pegasys, Inc.,annoucned the upcoming release of the English version of TMPGEnc Authoring Works 5 in the 1st Quarter of 2012. This latest edition of their authoring software adds more features, such as AVCHD output and the ability to create H.264/AVC encoded Blu-ray Discs using the x264 encoding engine. Purchasers of the popular TMPGEnc Authoring Works 4 after February 24, 2012 can upgrade to TMPGEnc Authoring Works 5 for free once it is released. The retail price will be $99.95 for the full version.
New output features include the use of the x264 encoding engine for H.264/AVC Blu-ray and AVCHD output. In addition, users can utilize their NVIDIA CUDA or Intel Media SDK (Quick Sync Video) hardware for H.264 encoding and decoding. TMPGEnc Movie Plug-in SpursEngine is also supported, allowing SpursEngine MPEG-2 and H.264/AVC hardware encoding. Users with AVCHD camcorders can now input and output the AVCHD file format with little image degradation. AVCHD output is possible in these formats: for playback on AVCHD Progressive devices, DVD media, and hard drives/SD memory cards.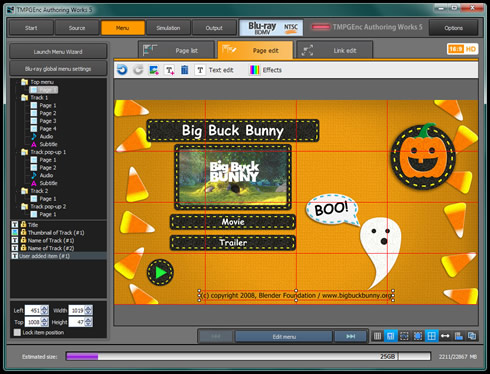 Improved input and editing features help create DVD, Blu-ray and AVCHD projects with professional results. Up to 8 subtitle streams (up to 2 for AVCHD output) and 4 audio streams can be added to expand the reach of any project. The improved MPEG-TS file analyzer displays all available video, audio and subtitle streams enabling selection of the desired streams from the BD folder or TS file. Dolby Digital Plus audio is now a supported input format. The updated Smart Rendering engine allows lossless editing of MPEG-2 and H.264/AVC files as long as they are compliant with the output format. The Smart Rendering engine also officially supports videos taken on GoPro cameras. Owners of our video encoding software, TMPGEnc Video Mastering Works 5, can import their project files as a clip, eliminating the need to encode the projects beforehand.
New Input Features:
- MKV container file support
- WebM, H.264 stream FLV and MOV native file support
- Dolby Digital Plus audio support
- MPEG-2 TS file analyzer capable of recognizing multi-stream video with different resolutions
- Select closed caption or subtitle data from MPEG-TS files, Blu-ray or DVD-Video (when several are available)
- Import Blu-ray or AVCHD file video by the title (VC-1 video not supported)
- Import GoPro HD video file
- Import TMPGEnc Video Mastering Works 5 (sold separately) project files as a clip
- Improved Smart Rendering automatic processing for source files
New Editing Features:
- Add up to 8 subtitle streams (up to 2 for AVCHD)
- Add up to 4 audio streams
- Multi-channel audio level meter with each preview
- Undo/Redo option in almost all editing windows
- Integrates our advanced Intuitive Draw Technology for fast preview rendering
- Bitrate indicator warns against bitrate overflow depending on target format
- Scale and reposition the preview display in the cut-edit window
- Many new functions are available which focus on cut-editing HD movies
- NVIDIA CUDA and Intel Media SDK H.264/AVC decoding now available
New Output Features:
- AVCHD output support
- Smart Rendering engine now supports H.264/AVC for lossless output
- Uses the x264 encoder for H.264/AVC Blu-ray Discs and AVCHD output
- Supports the Intel Media SDK H.264/AVC encoder
- Supports the NVIDIA CUDA hardware H.264/AVC encoder
- Supports SpursEngine hardware when used with the TMPGEnc Movie Plug-in SpursEngine
Other New Features:
- Access the Tools from any stage of the main window from the Start-up Launcher
- Batch encode tool Task tray minimization