13. KProbe PI/PO Quality Tests
Optorite DD0203 dual DVD±RW recorder - Page 13
KProbe PI/PO quality results
In the following screenshots you can see the PI/PO scans for various 4X DVD-R/+R and DVD-RW/+RW media, recorded with Optorite DD0203 at the maximum speed.
The software we used for the measurements is the KProbe v1.1.14, and the reader is LiteOn XJ-HD165H. The specific methodology is very depended on the drive we use as a reader, and the reliability of the PI/PO provided output is also not technically confirmed. As a result, we cannot safely come up with absolute results, but we are allowed to compare the behavior of the drive with various DVD recordable/rewritable media.
The recordable discs we used come from Hitachi-Maxell, Pioneer, Philips, TDK, Taiyo Yuden, Verbatim and Ritek. More information about each disc type is available in the bottom of the page.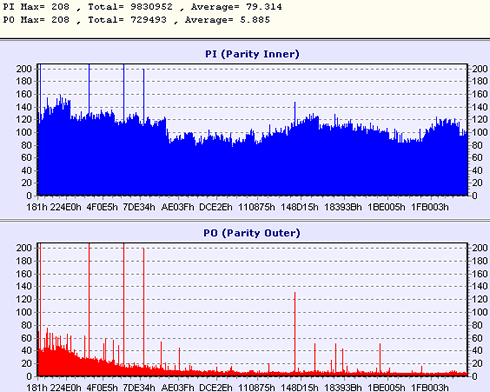 | | |
| --- | --- |
| Media | Code |
| Verbatim 4X DVD-R | MCC01RG20 |
| Verbatim 4X DVD+R | MCC 002 |
| Maxell 4X DVD+R | MAXELL 001 |
| Maxell 4X DVD-R | MXLRG02 |
| TDK 4X DVD-R | TTG01 |
| TDK 4X DVD+R | RICOHJPNR01 |
| Pioneer 4X DVD-R | PVCR001002 |
| Philips 2.4X DVD+R | RICOHJPNR00 |
| Ritek 4X DVD-R | RITEKG04 |
| Pioneer 2X DVD-RW | PVCW00V00245 |
| Philips 2.4X DVD+RW | CMC MAG W01 |