10. HS-RW Writing Tests
Optorite DD0203 dual DVD±RW recorder - Page 10
HS-RW Writing Tests
We used Nero Burning Rom for writing CDs in the maximum RW speed. optorite DD0203 supports 10x maximum rewriting speed.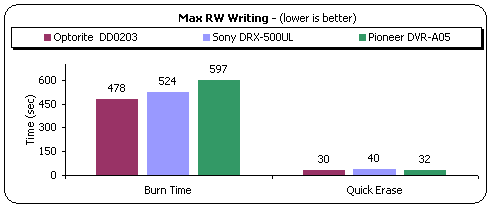 The Optorite finished in 7:58 minutes, and needed 30 seconds to perform the "quick erase" task with Nero. Sony DRX-500UL was slower with 8:44 minutes.
- Packet Writing Tests
We used InCD and Ricoh HS-RW media for all Packet Writing tests. The quick formatting of the media takes 30sec. The formatted disc had 530mbs of free space. We copied a 403 MB file (403.147 kb) from a Hard Disk (on the same PC as the writers) to the formatted RW media through the Windows explorer (drag and drop) :
The Optorite DD0203 gave an average writing speed of 7.8X and is slower than the Sony drive while the Pioneer DVR-A05 is ranked at the third place with 5.6X. In the reading part, the Optorite drive is the fastest among the rest drives with 7.6X.