OCZ Vertex 4 128GB review
6. AS SSD benchmark
We proceed with the AS SSD benchmark, which contains five synthetic as well as three practical tests. The synthetic tests determine the sequential and the random read / write performance of an SSD. These tests are carried out without using the operating system's cache. The Seq-test measures how long it takes to read and write an 1GB file. Most importantly, this sequential benchmark uses incompressible data for all of its transfers.
The 4K benchmark tests the read and write performance for random 4K blocks. The 4K-64-THRD-test corresponds to the 4K procedure except that here the read and write operations are distributed on 64 threads.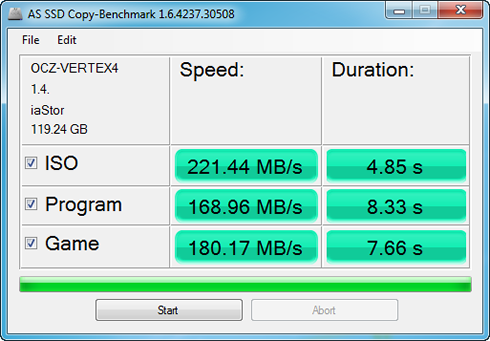 The drive's performance in these tests was excellent. It seems that the drive has been optimized to deal with incompressible data - a different behavior compared to the way Sanforce controllers deal such data.
The Vertex 4 128GB produced a great 501.61 MB/s read speed and an even greater 370.25 MB/s write performance. The single-threaded 4K IOPS tests showed a high 26.76 MB/s for read and a faster write at 710.80 MB/s write, while the 64-thread 4K reads recorded a fantastic 334.45 MB/s for read and 298.95MB/s for write.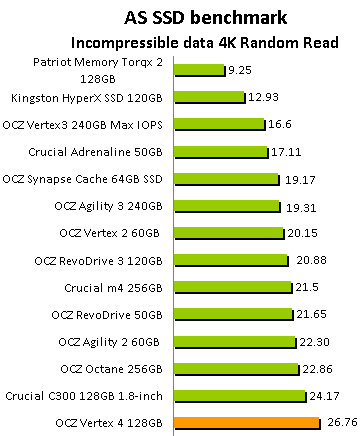 It's pretty apparent so far that the Vertex 4 loves 4K testing, and swept the field in those test result. The Vertex 4 came out on top of all the write tests, and performed very well for its capacity in the 4K random reading tests:
In the following graph you see how the Vertex 4 drive reads and writes files, which have been partially of fully compressed. It is obvious that the drive's reading performance peaks with incompressible data and decreases as soon as the files are compressed by 55% or higher: