OCZ DDR3 PC3-12800 Platinum Triple Channel
2. Testing the memory
For our tests, we used the following PC set up:
CPU: Intel Core i7-920 Retail
CPU Cooler: Intel Stock
Motherboard: Asus P6T Deluxe BIOS 1904
PSU: OCZ GameXStream GXS600 SLI-Ready
VGA: MSI 7600GT Silent (stock memory/core timings)
HDD: Seagate 7200.12 500GB
OS: Windows Vista x64 SP2 with all the latest updates installed
In order to keep enjoy stable operation under all conditions we suggest using the following BIOS settings for the DRAM and the QPI/DRAM voltage. Both values should be set at 1.66V/1.35V, respectively:
According to our tests, the memory is able to handle 1333 MHz memory divider at CL6-6-6-12-1N without any problems. The stability was tested using the Linx v0.6.4 for at least one hour:
In order to achieve the 800MHz, you should push the CAS up to CL7-7-7-20-2N. We also tried to set the command rate at 1N but the system couldn't operate for more than two minutes using the Linux software.
What about overclocking? We saw the memory maxing out at around 1768MHz, aka 882MHz, with CL 8-8-8-24-2N. The memory refused to operate at any higher frequency even at CL9.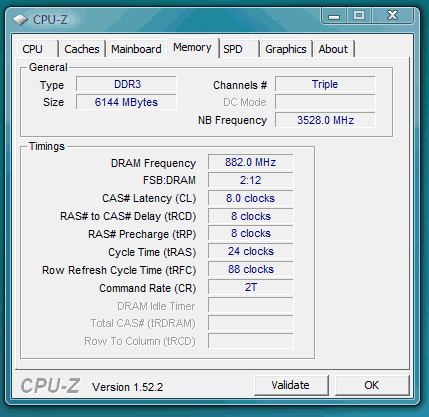 Let's see some performance numbers. We got a rather impressive 23.39MB/sec for the DDR3-1333 setting and 26.61MB/sec at DDR3-1600, a performance that really accelerates a system:
| | | | |
| --- | --- | --- | --- |
| Memory Frequency/Timings | Real Frequency | Voltage | Sisoft Sandra 2009 Memory bandwidth |
| DDR3 1333 CL6-6-6-12 | 668,20 | 1.65 | 23.39MB/sec |
| DDR3 1600 CL7-7-7-20 | 801,09 | 1,65 | 26.61 MB/sec |