Motherboard Roundup May 2008
12. Overclocking
Overclocking an Intel C2D/Quad processor is not very easy and a good motherboard could make a huge difference. In our tests we tried follow the easiest overclocking approach for end user. We left the Voltage settings in the Auto mode and push each motherboard as high as we could. Each motherboard has to make its own adjustments and give us highest possible result.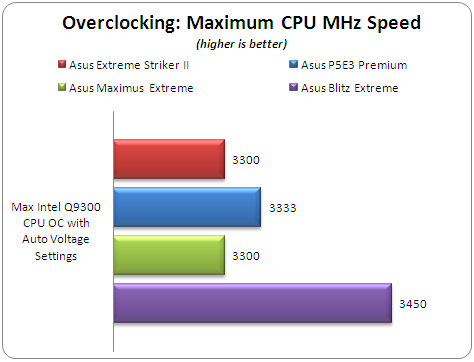 In the first test, the Asus Blitz Extreme gave a higher cpu speed. A good explanation is that the motherboard is mature enough and its Bios settings are better fine tuned. The rest of the motherboards were approximately 100Mhz slower, at around 3.300GHz.
Almost all tested motherboards seem to have the same performance, giving a with 460MHz FSB. Maximus Extreme stayed a little lower with 440MHz.
- Overclocking stability
We are pleased to say that all Intel-based motherboard showed a good behavior. After any overclocking attempt, they all POSTED with an error message allowing us to chance some settings and try again. The Asus Striker II Extreme also had good behaviour and the additional external CMOS button could be proved useful in cases were the system does not POST back.