Motherboard Roundup May 2008
6. Asus Striker II Extreme- BIOS settings, Test configuration
The BIOS is different than what we have encountered with Intel based motherboards. It has a different structure and general philosophy.
The first tab gathers all the functions/options:
Users can start overclocking by either changing the memory settings..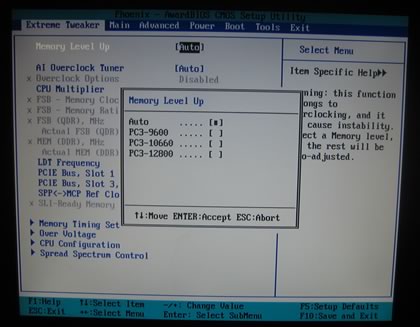 ..or by manually setting up almost everything.
The memory options are well structured
Tons of voltage options
Spread Spectrum should be disabled for highest performance
While we navigate across the at the CPU configuration settings, we can disable the C1E and the SpeedStep technology.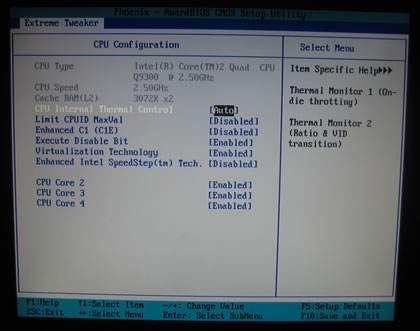 The voltage/temperature monitor levels are extensive
Performing overclocking is rather easy. You can either link/unlink the FSB/Memory and rise up the FSB/Memory depending on your needs, or change them individually. Remember that in all cases, the Sync Mode offers the highest possible performance.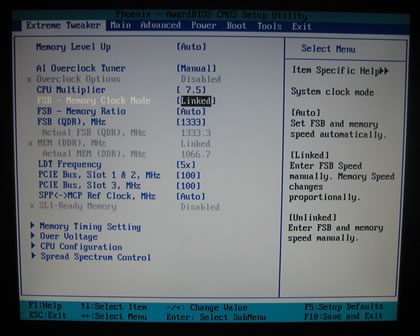 The following table gives us an idea of what to expect from the sync/un-linked modes. We can have our memory synced at 1333MHz, un-linked at 1333Mhz or simply boost memory at 1600Mhz, by keeping the cpu at a normal speed, very handy for testing memory modules...
Several FSB:DRAM ratios are also available...
The unlinked mode offers the possibility to rise up memory and keep the CPU clock stable.
Here is a list with all the available voltages and frequencies:
CPU Voltage setting: set [ CPU Voltage ], Range[1.1V…2.4], Interval = 0.00625V
Loadline Calibration: Enable, Ensure Stable and Optimal CPU Voltage During Heavy Loading
CPU PLL Voltage: set [CPU PLL Voltage], Range[1.5V…3.0V], Interval = 0.02V
CPU VTT Voltage: set [CPU VTT Voltage], Range[1.2V …2.46V], Interval = 0.02V
Memory Voltage: set [Memory Voltage], Range[1.5V …3.10V], Interval = 0.02V
NB Core Voltage: set [NB Core Voltage], Range[1.3V…2.2V], Interval = 0.02V
SB Core Voltage: set [SB Core Voltage], Range[1.5V…1.85V], Interval = 0.05V
CPU GTL_REF0 Ratio:]: Range[+224mv…-226mv], Interval = 0.014V / 0.007v
CPU GTL_REF1 Ratio:]: Range[+224mv…-226mv], Interval = 0.014V / 0.007v
CPU GTL_REF2 Ratio:]: Range[+224mv…-226mv], Interval = 0.014V / 0.007v
CPU GTL_REF3 Ratio:]: Range[+224mv…-226mv], Interval = 0.014V / 0.007v
NB GTL_REF Ratio: Range[+160mv…-126mv], Interval = 0.010V / 0.002v
DDRII Channel A1 Ref Voltage: Range[+250mv…-250mv], Interval = 0.0125V
DDRII Channel B1 Ref Voltage: Range[+250mv…-250mv], Interval = 0.0125V
DDRII Channel A2 Ref Voltage: Range[+250mv…-250mv], Interval = 0.0125V
DDRII Channel B2 Ref Voltage: Range[+250mv…-250mv], Interval = 0.0125V
- Test Configuration
Let's see now how our CPU was identified under CPU-Z: