1. Introduction , Asus 9600GT Silent

The Nvidia GeForce 9600 GT GPU is a new mid-range graphics card in the D9x graphics family, which is manufactured in 65nm technology.
SLI-Ready,the GeForce 9600 GT chipset offers 64 stream processors, a 256-bit frame buffer, standard-setting GeForce 9 Series features and support for DirectX 10 games.

Nvidia claims that the new 9600GT offers up to a 90% performance increase over the comparable 8 Series GPU GeForce 8600 GTS.
Key features:
NVIDIA PureVideo HD Technology
The combination of high-definition video decode acceleration and post-processing that delivers unprecedented picture clarity, smooth video, accurate color, and precise image scaling for movies and video.
Dynamic Contrast Enhancement
Provides spectacular picture clarity with frame-by-frame optimization.
NVIDIA SLI Technology
Delivers up to 2x the performance of a single GPU configuration for unequaled gaming experiences by allowing two graphics cards to run in parallel. The must-have feature for performance PCI Express® graphics, SLI dramatically scales performance on today's hottest games.
PCI Express 2.0 Support
Designed to run perfectly with the new PCI Express 2.0 bus architecture, offering a future-proofing bridge to tomorrow's most bandwidth-hungry games and 3D applications by maximizing the 5 GT/s PCI Express 2.0 bandwidth (twice that of first generation PCI Express). PCI Express 2.0 products are fully backwards compatible with existing PCI Express motherboards for the broadest support.
Below you can see all the currently available Nvidia 9xxx series models:
| | | | | | | | |
| --- | --- | --- | --- | --- | --- | --- | --- |
| | Core Clock (MHz) | Shader Clock (MHz) | Memory Clock (MHz) | Memory Amount | Memory Interface | Memory Bandwidth (GB/sec) | Texture Fill Rate (billion/sec) |
| 9800 GX2 | 600 | 1500 | 1000 | 1 GB | 512-bit | 128 | 76.8 |
| 9800 GTX | 675 | 1688 | 1100 | 512MB GDDR3 | 256-bit | 70.4 | 43.2 |
| 9600 GT | 650 | 1625 | 900 | 512MB | 256-bit | 57.6 | 20.8 |
| 9600 GSO | 550 | 1375 | 800 | 384MB | 192-bit | 38.4 | 26.4 |
The 9600GT comes to cover the lower end market with good price/performance ratio. Looking at it specs, the onboard 512MB ram and the high core/memory clocks should cover the needs of the majority of users.
Today we have in our hands two implementations of the Nvidia 9600GT GPU, the Asus 9600GT Silent, the Gainward Gainward 9600GT Top and the Inno3D 9600GT IChill.
- Asus 9600GT Silent Edition
Asus released its own solution for quiet operation based at Nvidia's 9600GT reference card. The "Silent Edition" features a new cooler design that allows the GPU to operate at lower temperatures , called V-Cool heatsink.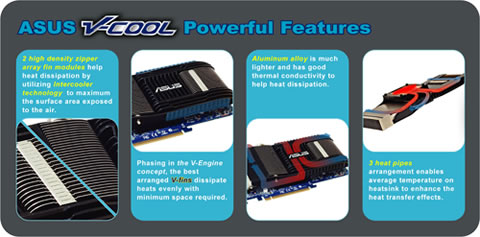 The retail box is rather big, indicating that the board of the card could be slightly larger that the usual Nvidia designs.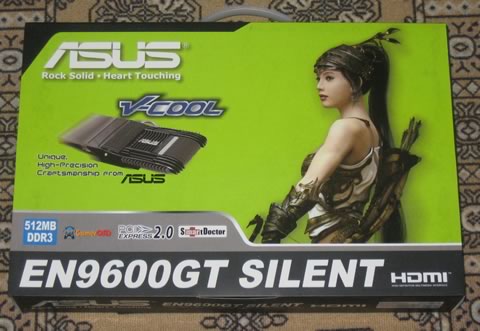 The Asus EN9600GT Silent bulks a D-Sub15-to-DVI converter, an S-Video cable, two CD-ROM discs with drivers and utilities and of course a DVI-to-HDMI converter.
The Asus EN960GT Silent features a massive external heatsink to keep the overall core/memory banks cool. There are two DVI-D and a component output. Of course SLI configurations are possible with this card, when paired with another Nvidia based 9600GT. In order to work properly, the card needs a 6-pin molex power supply.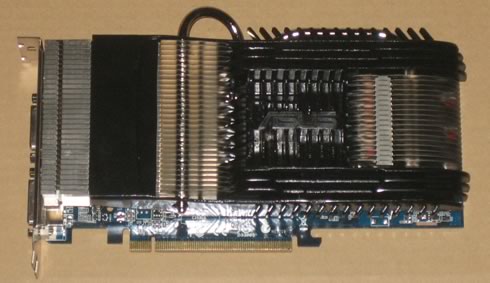 The card runs at the default Nvidia specifications. Later we will examine the overclocking capabilities of the card, provided that its passive cooling system could possibly make overclocking more difficult.