Motherboard Roundup May 2008
3. Asus P5E3 Premium WiFi@n - BIOS settings, Test configuration
The BIOS follows what Asus has been using for quite sometime now. In order to get the best results, we used the BIOS update software to upgrade to the latest version. The update procedure is very easy and works just fine. Probably the best we've seen, compared to the one of other manufacturers.
Entering the BIOS window, we see various tabs each one holding several sub-menus with different options. The first tab shows the date, SATA drives and system information.
On the second tab named "AI Tweaker", users will find tons of features.
The motherboard includes an auto overclocking system, called Ai Overclock Tuner, which offers three different settings:
Manual (Allows you to individually set overclocking parameters)
Auto (Loads the standard settings for the system)
X.M.P (Loads the optimal settings for the system)
CPU Level Up (Allows you to select a CPU level, and the related parameters
will be adjusted automatically)
Memory Level Up (Allows you to select a memory level, and the related parameters
will be adjusted automatically)
We use manual settings for all hardware tests:
The FSB Strap to North Bridge can be set to up to 400MHz. Most users will leave this option to Auto. There are also many memory dividers to play with (1:1,1:2, etc.). The memory dividers are affected from the selected FSB, so in order to have the highest possible options, leave the FSB to auto. We can see that the BIOS reads the memory timings and displays them.
The DRAM CLK also offers many different settings to play with in order to improve stability and performance: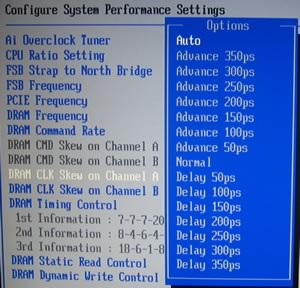 Experimenting with the available memory settings would either offer better performance, or stability.
Here is a list with all the available voltages and frequencies:
FSB from 200~800MHz with 1MHz step

Frequency bus PCI-E from 100~150MHz with 1MHz step

CPU Voltage: 0.85000v - 2.1000v (0.00625v steps)
CPU PLL Voltage: 1.50v - 2.78v (0.02v steps)
FSB Termination: 1.20V~2.00V with 0.02V interval
DRAM Voltage: 1.50v - 2.78v (0.02v steps)
NB Voltage: 1.25v - 2.21v (0.02v steps)
SB Voltage: 1.05v - 1.20v (0.15v steps)
Clock Overcharging Voltage: 0.70v - 1.00v (0.10v steps)
Proceeding to the Advanced tab, we can find more settings for SpeedStep, C1E support and of course CPU multiplier:
Under the Power tab, there are the usual temperature readings, with no NB/SB temperatures, only in special models.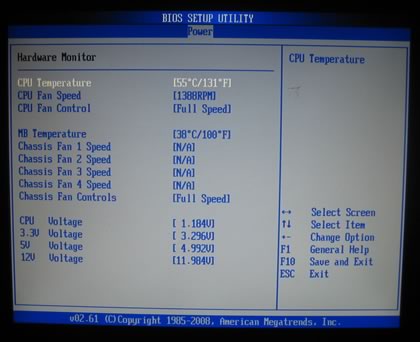 Lastly, under the Tools tab we find the Express Gate option that can be enabled or disabled.
- Test Configuration
Let's see now how our CPU was identified under CPU-Z: