Micron M600 128GB SSD review
1. About the M600 SSD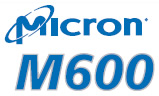 Micron Technology typically does not sell retail drives under its own brand. It handles its retail sales through two subsidiaries, Crucial and Lexar. The Crucial brand handles RAM and SSD sales, whereas Lexar is focused on memory cards and USB flash drives. The Micron brand is mainly used for OEM sales as well as direct sales to large corporations.
The SSDs released under the Micron and Crucial brands have been identical so far, with their only differences to be in their labels and packaging. Currently, Micron is using the "M" branding for its lineup and Crucial drives are using the MX branding that was introduced with the MX100.
Today we have in our labs the 128GB Micron M600 SSD, an OEM-only drive that has many similarities with the MX100. Both SSDs are based on Micron's latest 128Gbit 16nm NAND, but the M600 comes in a variety of form factors and also includes a 1TB model, whereas the MX100 is 2.5" only and tops out at 512GB.
But most importantly, the M600 introduces Dynamic Write Acceleration, an SLC-based caching technique which increases the write performance at smaller capacities and also allows for higher endurance.
To date, performance gains on MLC-based SSDs have primarily been achieved by reducing overhead and increasing parallelism in NAND to match drive performance as close as possible to the theoretical capability of the underlying hardware. Theoretical hardware capabilities are based on many factors, including capabilities of individual NAND components, quantity of NAND components, NAND Flash channel speeds and quantities.
When the number of NAND components in the SSD is limited, as may be the case with small-density SSDs, the theoretical capability of the underlying hardware may become a limitation. This can be circumvented by using a higher number of smaller capacity NAND components to increase the amount of parallelism for the same amount of storage; however, this often adds cost because the lowest cost-
per-gigabit NAND parts also tend to be the largest-capacity parts.
Dynamic write acceleration is engineered to enable SSD performance beyond conventional hardware capabilities. It adapts NAND usage to fit the intended user environment without sacrificing user-accessible storage capacity.
Acceleration is achieved using on-the-fly mode, switching between SLC and MLC in the firmware to create a dynamic pool of high-speed SLC NAND blocks. This performance pool changes in size and physical location in a way that leverages client computing usage environments.
When acceleration capacity is available, new data will be written in SLC NAND, which produces an increase in physical saturation greater than the corresponding increase in logical saturation because SLC is less dense than MLC.
Drive firmware may use interface idle time to reduce physical saturation and recover acceleration capacity. This process may consist of migrating data written as SLC to high-density MLC mode or removing obsolete copies of data from the NAND.
The acceleration capacity that is recovered before the operation completes is dependent on runtime parameters, such as physical and logical saturation, and is optimized to balance burst performance availability and long-term drive endurance.
Since the SSD firmware may use any portion of the NAND array as either SLC or MLC, acceleration capacity is often larger than other technologies that use a static pool, or cache, for acceleration.
The M600's SLC cache size is determined by how full the drive is. With an empty drive, almost all blocks will be run in SLC mode and as the drive is filled the cache size decreases. Micron claims that even when the drive is 90% full, Dynamic Write Acceleration offers higher acceleration capacity than competing technologies.
The result of the Dynamic write acceleration is obvious in the M600 SSD. The 128Gb model is capable of 400MB/s sequential write and 88K IOPS random write and the endurance sees a boost from 72TB to 100TB despite the use of smaller lithography and higher capacity 128Gbit 16nm MLC.
Notice that Dynamic Write Acceleration is only enabled at 128GB and 256GB capacities (excluding mSATA/M.2), so with the 512GB and 1TB models the write performance will be the same across all LBAs.
According to Micron, the M600 offers SSD power efficiency as it t draws less than 2 milliwatts (mW) in sleep mode and averages 150mW during active use. Typical laptop hard drives require exponentially more power when idle (130mW) and ten times as much power while they spin their platters to access data during active use (1400mW to 2000mW). Despite its low power use, the M600 can read data as fast as the SATA interface allows - with random reads up to 100,000 input/output operations per second (IOPS) and 560 MB/s sequential read speeds for all capacities.
This write architecture also helps the M600 achieve greater longevity. For example, the 1TB M600 is warranted to reach up to 400TB total bytes written (TBW), which is five times more than typical client drives. That's enough endurance to write 220GB a day, every day, for five years.
The M600 is also equipped with self-encryption technology designed to meet government standards. The M600's AES-256-bit hardware encryption engine actively encrypts data without performance degradation and complies with the TCG Opal 2.0 standards and the Microsoft eDrive protocol, making it easy to enable using management tools or within Windows 8.v
The drive also features a quality and reliability features including RAIN onboard fail-over protection, client-class power-loss protection for data at rest, and adaptive thermal monitoring, which dynamically adjusts power consumption based on system temperature.
Last but not least, the M600 supports the asynchronous power-loss protection, also met in the MX100 series. The implementation guarantees that in case of power-loss, existing data is protected. But this also means that any in-flight data will be lost, including the user data in the DRAM buffer.
The M600 SSD uses Micron's 128Gb NAND. It is offered in 128 ($80), 256 ($140) and 512GB ($260) mSATA and M.2 module configurations. The gumstick-sized M.2 module is offered in both 80mm and 60mm versions (2280 and 2260) to provide more options for ultra-slim tablet systems. The M600 is also available in a 2.5-inch, 7mm form factor, which is available in capacities from 128GB to 1TB ($450).
2.5-Inch

mSATA

M.2

Capacity
128GB, 256GB, 512GB, 1TB
128GB, 256GB, 512GB
Interface

SATA 6 Gb/s

Sequential
performance (up to)

Read: 560 MB/s
Write: 510 MB/s

Random performance (up to)

Read: 100,000 IOPS
Write: 88,000 IOPS

PCMark Vantage score (up to)

87,000

Active average power
consumption (TYP)

150mW

Idle average power
consumption

<100mW

Device sleep power consumption

<2mW

Endurance (TBW)

128GB: 100TB, 256GB: 200TB,
512GB: 300TB, 1TB: 400TB

Operating temp

0°C to +70°C

Dimensions

2.5-inch: 100.45 x 69.85 x 7mm
mSATA: 50.80 x 29.85 x 3.75mm
M.2 2280: 80 x 22 x 3.58mm
M.2 2260: 60 x 22 x 2.3mm

Weight (MAX)

70g

10g

MTTF

1.5 million hours