Kingston USB 3.0 Media Reader review
1. Features
Avid photographers, videographers, design studios or printing houses typically invest in high-speed, high -capacity media cards in order to get their large images or videos stored fast. But when it comes to transferring that content to a PC or MAC, the selection of the correct media reader is critical in order to avoid slow transfer speeds and delays.
Kingston is proposing the USB 3.0 Media Reader (model FCR-HS3 ) as a solution for reading your media cards. Compatible with all major media cards types, the device can quickly move data between multiple devices. It can be used at home or on the road, since its convenient size makes it ultra-portable. USB 3.0 offers the same ease-of-use and plug and play capabilities as previous generations of USB technologies but with a performance increase ( up to 5.0Gb/s - 10 times more than USB 2.0) and better power management. But still, this USB 3.0 Media Reader is backwards compatible with USB 2.0.
The USB 3.0 Media Reader works with the following Flash card formats: CompactFlash, CF Type I (UDMA 0-6), CF Type II (UDMA 0-6), SD, SDHC, SDHC UHS-I, SDXC, SDXC UHS-I, microSD, microSDHC, microSDXC, Memory Stick/M2, Memory Stick, Memory Stick PRO, Memory Stick Duo, Memory Stick PRO Duo, Memory Stick M2.
It is compatible with all major Operating systems - Windows 8 / 7 SP1/ Vista SP1, SP2 / XP SP3 / Mac OS X v.10.6.x + and Linux v.2.6.x +.
Backed by a two-year warranty, the black-colored device features a metal construction with a built-in LED indicator and three-foot USB 3.0 cable. Its size is just 3.66" x 2.07" x 0.63" (93.17mm x 52.68mm x 16.00mm):
At the rear side of the small device there is the USB 3.0 port: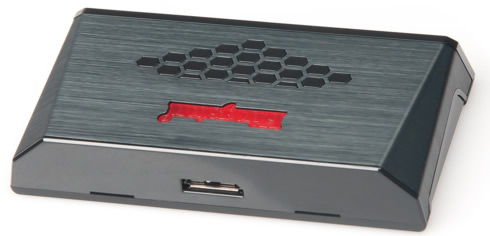 The front side is covered by the various media card slots:
-