Samsung 850 Pro SSD review
1. Features, 3D NAND
Samsung has been a pioneer in the SSD industry, mainly due to its strategy been tight to vertical integration. Releases quite some time ago was the SSD 840, the the first mass produced SSD to utilize TLC NAND. The 840 EVO followed and now, Samsung innovates again with the introduction of the SSD 850 Pro, the first consumer SSD with 3D NAND.
Over the past 15 years, NAND Flash memory cell structure has gone from 120nm scale to 19nm scale. Along with this drastically shrinking structure, capacity has grown by 100 times. Just how is Samsung V-NAND Flash memory able to offer 100 times the capacity in only 1/10th the same area? That's where the V in V-NAND comes in, as Samsung stacks the cells vertically.
Samsung's three-dimensional Vertical NAND Flash memory (3D V-NAND) breaks free of the scaling limit for existing NAND Flash technology. Samsung has developed a new structure through its first 24-layer V-NAND.
Samsung has been working to mitigate the two biggest problems inherent in shrinking technology.
When an electric charge flows into one cell, an electric charge flows into a neighboring cell (known as the coupling effect). This extraneous charge to the neighboring cell actually changes the stored data, resulting in corruption of that data. This interference does not occur when the space between cells is greater than 30nm, but as that space shrinks smaller than 20nm, the chance for cell-to-cell interference increases.
Patterning is a manufacturing technology developed for photolithography to enhance density. The patterning process allows for geometries half as wide as the scanner is capable of printing, but it has its limits within the 10nm process range.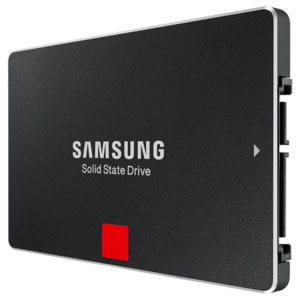 Samsung has developed and applied a variety of technologies to prevent both data-corrupting interference and the limits of patterning. 3D V-NAND replaces 2D Planar NAND's conductor with an insulator that allows cells to hold their charges after writing data. Due to its vertical cell arrangement, Samsung's 3D V-NAND features a wider bit line, effectively removing cell-to-cell interference.
Stacking the vertical layers in three dimensions allowed for 24-layer products in 2013 and has increased to 32-layer products in June of 2014. Using stacking instead of photolithography to increase capacity eliminated the patterning limitation.
Compared to the Samsung 840 EVO SSD, the only change in the 850 Pro is the switch to V-NAND. The new SSD retains the same SATA 6Gbps interface along with the same triple-core MEX controller. But the firmware of the new SSD has been completely changed in order to accommodate V-NAND. In addition, the PCB in the 256GB model we have in our labs comes in at even smaller size. The reason for the different PCB size is the amount of NAND packages on the PCB, as the 256GB only has four.
Here are the specs:
Samsung SSD 850 Pro Specifications

Capacity

128GB

256GB

512GB

1TB

Controller

Samsung MEX

NAND

Samsung 2nd Gen 86Gbit 40nm MLC V-NAND

DRAM (LPDDR2)

256MB

512MB

512MB

1GB

Sequential Read

550MB/s

550MB/s

550MB/s

550MB/s

Sequential Write

470MB/s

520MB/s

520MB/s

520MB/s

4KB Random Read

100K IOPS

100K IOPS

100K IOPS

100K IOPS

4KB Random Write

90K IOPS

90K IOPS

90K IOPS

90K IOPS

Power

2mW (DevSLP) / 3.3W (read) / 3.0W (write)

Encryption

AES-256, TCG Opal 2.0 & IEEE-1667 (eDrive supported)

Endurance

150TB

Warranty

10 years
Another improvement from V-NAND is the endurance. All capacities are rated at 150TB, which is higher than what any other consumer-grade SSD offers:
Endurance Comparison

Samsung SSD 850 Pro

Intel SSD 730

SanDisk Extreme Pro

OCZ Vector 150

150TB

91TB (240GB)
128TB (480GB)

80TB

91TB